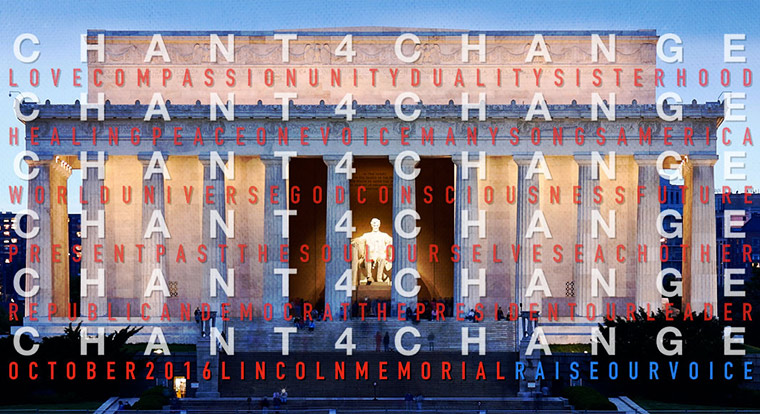 On October 8th, musicians from around the globe will be joining to chant and sing on the steps of the Lincoln Memorial in Washington D.C. for an event titled Chant4Change. The event is a project of The Call and Response Foundation and kirtan (sacred chanting) musician Gaura Vani. Chant4Change will gather thousands of voices, including a variety of community and spiritual leaders. This group will come together to "send a message of unity and hope that will reach all fifty states and influence the world. Together, the [attendees'] voice will be strong enough to clear away the divisive, violent rhetoric that has been blanketing our nation." Frontliners such as MC Yogi, Radhanath Swami, David Newman, and more will be working together to get a message of good will across, bring happiness to the world, and bring praise to the divine. This event is free and will happen right before the election. The organizers' hope is that Chant4Change will shed some light and love on what many feel is a polluted political climate.
"Chant4Change is creating an opportunity where the divisions of race, age, gender, religion, or political view melt away, as thousands of voices infused with positive intentions and good wishes are raised as one. This powerful sound-vibration will pierce through all negative barriers and will bring peace to humankind. Together, we can make this change. Together, each voice will be heard."
I've heard Gaura Vani perform kirtan on a number of occasions and his energy is infectiously good. During trying times, I have found his music uplifting—it has the power to bring me out of the depths of isolation into places of spiritual connection and gratitude. Kirtan is a form of sung prayer, and is reminiscent of the doctrine of Satyagraha developed by Mahatma Gandhi in 1914. At the time, Satyagraha was a form of nonviolent resistance for Indian rights in South Africa and the Indian Independence Movement. The civil resistance of Satyagraha is an "insistence on truth" (satya, meaning truth; agraha meaning insistence, or "holding firmly to") that Ghandi later described as a "love-force." In 1947, the U.S. civil rights movement referred to it as a "soul-force".
Chant4Change is an opportunity for us to follow in the footsteps of Gandhi and use our voices to create a higher vibration. Together, we can shake the foundations of our political system to bring about change: change for us, for our neighbors, for all of our souls as one love. I encourage you to check out their site and sign up to volunteer or sing/pray with the group here. And, if you're unable to make the trip this time, then consider chanting from home. The power of sung prayer or mantra is transformative and revolutionary. Mantra is a sacred utterance believed to have spiritual and psychic powers when sung/spoken through the powerful language of Sanskrit. An example of this can be found when we contemplate the sound of Aum (pronounced "Ah-ooh-um") that is chanted during many yoga classes. This sound was discovered during deep trance meditations by ancient rishis, or inspired poets of Vedic hymns. They revealed that through the sound-vibration of Aum, the source of creation could be understood. This is the source from which all the Vedas, mantras, and the entire universe originated. If you listen carefully and meditate in silence, you may find you can hear or feel this sacred vibration.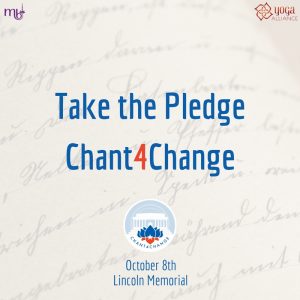 Yogis often report experiencing feelings of elation and interconnectedness during and after using the Aum mantra during their yoga practice. This may be because, in Sanskrit, form and name are thought to be identical. Each sound corresponds to a vibration in our physical body, triggering an impulse within. The sound of "a" corresponds to one's material identity, the body, the waking state; the sound of "u" to the subtle energy in the mind, the dreaming state, and "m" to the causal realm that is beyond the mind. So if you chant "Aum" you feel "aum" in your body, and develop connections with your consciousness; thereby you become one with the source. Think of the body as a tuning fork, and the mantra as the act of sending a vibration through the metal, bringing it in tune.
Try it using a technique from "On the Science of Om" by Rod Stryker:
Take an inhale and pronounce "a" and allow the sound to ride from the base of your spine to your navel.
Continuing with the above, breathe "u" from the navel to the throat.
Next, breathe "m" from the throat out the crown of the head.
Now, put it all together, accentuating the "u" and the "m."
This accentuation will bring awareness to the higher chakras. You, the fork, may just start to feel in tune with the source. The idea that you can be tapping in to this vibration at the same time as thousands of others is also amazing. So, whether you make the trek to D.C. or not, consider finding a good teacher who can help you pick your mantra, and experiment with it at home. Then, watch your world shift as you vibrate on a higher frequency.
You can find out more about Chant4Change here, and we hope to see you in D.C. on October 8th!