The Brooklyn-based musician's second album gives wings to your practice.
Every so often, when we're not really trying too hard and we loosen our grip on expectation, we find ourselves wholly absorbed in a perfect moment. Such was my experience last fall at Wanderlust Williamsburg, when I first heard the swooping, swelling, ethereal sounds of Garth Stevenson's double bass — the backdrop for a luscious, liquid vinyasa co-taught by Schulyer Grant and Elena Brower.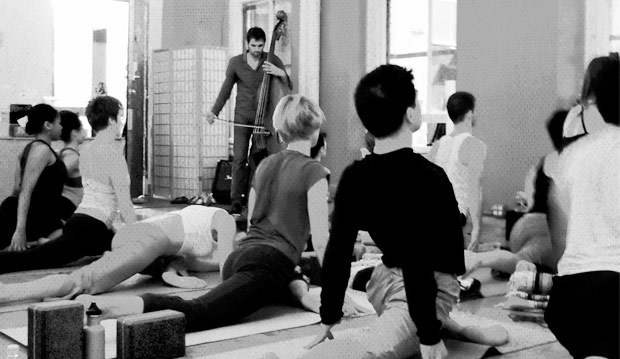 I've always been drawn to music that lifts my heart, peels me out of my shell, and sends me soaring into a sea of beautiful possibility. But when I arrived in Williamsburg that sunny, warm Saturday evening, my anticipation was wrapped up in the wonderment of a deep yoga moment shared with two of my very favorite teachers. What I wasn't expecting was a musical soundtrack that would elevate the entire experience to another level.
Garth stood quietly in the corner of the stage, his beautiful bass propped in hand. As the vinyasa unfolded in a seamless, fluid thread, so did the music — soft, vibrating notes morphing into pulsing, hypnotic melodies — somehow flowing in perfect synchronicity with our practice. Lost entirely in the moment, it became clear during those two fluid hours, that two teachers and a room full of soulful devotees were melded into one exquisite motion of breath and yoga — all engulfed by an ocean of rich, surrounding sound.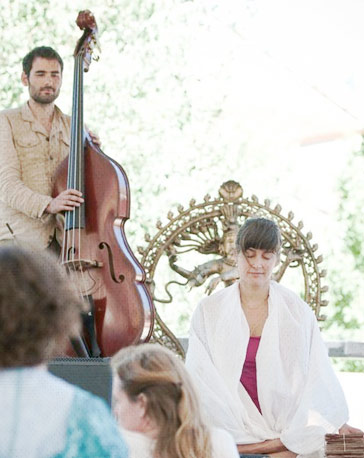 It's when laying on my mat, wrung out, free from the usual nagging, negative thoughts, sinking deeper into a feeling of inexplicable joy and peace, that I always recommit my heart to the practice. So, naturally, when I find music that sweetly ushers me to this state without much effort, it's like finding a new friend that offers exactly what I need, right when I need it.
As soon as my mat was rolled, I headed over to the event merchandise table and bought myself a gorgeous, handmade, hand silk-screened copy of Flying, Garth's 2011 release — and the roots from which our magical evening's sound-scape had grown. The album is like a warm, fuzzy blanket, quietly seeping into any unsuspecting crevices and stirring your heart with a sense of vastness and perfection. If you imagine yourself on a long, arduous hike to the top of a rugged mountain, Flying is like the space inside you that expands and glows as you approach the summit, drinking in the clear vista and cool, clean air. Pure elation.
The album is like a warm, fuzzy blanket, quietly seeping into any unsuspecting crevices and stirring your heart with a sense of vastness and perfection.
In my home practice and in my teaching playlists, I like to weave different styles into a crescendo that builds harmoniously with the class, intermingles with the flow of poses, and culminates in a soothing and restorative savasana. I love mixing old and new, fast and slow, kirtan, rock, rap, drumming — you name it! — all with the end goal of bringing students (or myself) to a state of openness and letting-go. Stevenson's music is powerful both on its own, or interwoven into epic playlists alongside other heart-wrenchers like Sigur Rós. Whether you're a teacher or student, if you're looking for a deeply moving musical experience, Flying is not to be missed.
Earlier this year, I found myself back in New York waiting in line at Virayoga for Elena's Saturday morning class. The line was long, and I watched impatiently as those with reservations checked in, one by one, slowly filling the studio and lessening my chances for a space in the class. With less than five minutes to go, I was reaching for my boots when a hand shooed me in — the very last student to walk through the doors.
Grateful, but totally frazzled, I rushed to situate my mat inside the changing area, between boots and scarves and the other yogis taking up every last inch of floorspace. It wasn't until I settled into sukhasana that I noticed a familiar figure in the corner, waiting just as patiently as the rest of us…
And once again, like a lost memory that sparkles into your mind unexpectedly, the long, reverberating wail of a double bass churned and pulsed in unison with the careful, clear choreography —  Elena and Garth, two maestros orchestrating our delicate, inward release. Slowly and certainly, nothing else mattered — only the power in my own legs, the buoyancy in my own heart, and the undulating tonal waves that melted us into one.
Learn more about Garth Stevenson's music by visiting his personal website, which also features full concert and yoga class listings on the Live page. If you'll be at the incredible Wanderlust Festival this year, be sure to sign up for Garth's Morning Meditation hike, where you'll have the opportunity to climb to a scenic mountaintop and experience the views as Garth's music serenades the scene.