These days, I've been living in a bit of a yoga bubble. As I'm still in recovery from my knee and hip issues, managing my health and caring for my body has consumed much of the time that used to be available for yoga. While I still have a daily practice, yoga is much different for me now than it was a year and a half ago. On some days, my practice is simply breathing, a meditation, or a few stretches interspersed with my physical therapy exercises.
When your practice becomes something you have to do as part of a recovery program, rather than something you choose to do out of pure desire, it's easy to get into a rut and difficult to always connect with your inner, intuitive flow… It's also challenging to feel a true, deep release, because often, my mind is too preoccupied with paying close attention to anatomical alignment, pain management, and following a routine.
What better way to pull myself out of that yoga trance than to spend a day with brilliant teachers on a beautiful, mountaintop setting!
It was still dark out when I woke at 5:30am yesterday morning, layered jeans and sweaters over my purple yoga pants, and made the hour-long trek to the top of Windham Mountain in the gorgeous Catskill mountains of upstate New York. Pulling up to the resort center, I looked to my right and saw Kia Miller and her husband Tommy Rosen exiting the vehicle parked next to me. Kia smiled  before they headed into the lodge, and I felt a tingle of excitement… the Ahimsa Yoga + Music Festival was a small, one-day fest and this was it's first year. Kia and Tommy were the headlining teachers, and the fact that we were sharing the same parking lot spoke of Ahimsa's laid-back and modest nature.
Registration was a breeze, and I arrived in the spacious "Surya" practice space with a half hour to relax before Anahata: Where Heaven and Earth Meet, Kia's only class of the day. As I laid back on my mat, snuggled in my giant wool sweater and scarf, I felt a mixture of anxiety and anticipation. I wasn't feeling so good; I was tired, my knee and hip felt "off", and I worried that I didn't have the strength and energy to practice two physical classes in one day. I reminded myself that I could always stop, always rest if I needed to… but I just didn't have the same giddiness I've felt in the past when attending yoga events.
We began with "Ego Eradicator," a kundalini breathing technique that immediately stirs the insides and stokes the inner fire. I started to feel warm and felt my edginess soften just a touch. Moving into a slow but steady vinyasa flow, I did my best to move with ease but my body was stiff and my knee and hip wouldn't cooperate; My flow became truncated by an inner dialogue of concern. Why did I come? I'm not strong enough for vinyasa. What if I hurt myself? What if my knee swells? I tried to quiet my mind but I felt as though I was at an impasse and my worries were blocking me from letting go and releasing into the movement.
Feeling flustered, we finished a cycle of surya namaskar, and Kia announced that she wanted to mix things up. "Let's boogie," she said with her radiant smile, turning up the music. "Just let go! Do whatever you like, but keep your hands up in the air!" My inner hesitation still present, I put my hands in the air and started dancing around my mat along with everyone else in the room. I wiggled, I circled, and I gyrated… Kia and Tommy bopped around the room, and slowly, the stiffness of the morning started to melt away. Before I could really gauge what was happening, I was swept up fully into the moment, far from my worries and concerns, and wholeheartedly in the flow.
We moved through a series of hatha postures and kundalini kriyas, specifically focusing on building heat and moving energy from the root chakra to the belly. We worked the core, and despite how weak I was, I found my edge and rode it with easeful effort. At the end of the class, as I laid there in savasana, I felt so relaxed and at peace that I came close to falling asleep!
Feeling jazzed but a little tired, I was glad my next class was just a lecture. But "just a lecture" it was not…Wave Rider™: The Act of Living Yoga with Coby Kozlowski turned out to be the most perfectly timed and curated message I could have possibly received. Coby's voice connected with me right from the beginning. "I'm probably going to offend some of you," she said. "And, I'm really not a 'We are all one,' kind of gal… but I'll get to that later." She was honest, sometimes brutally so, raw, funny, and totally engaging. I was completely immersed and inspired by her message of yoga as skillful participation and engagement with life. As she talked about riding the waves and yoga as "composting the shit in our lives and making it useful," I started to see the last year of my life, with all of its ongoing health challenges and moments of complete sadness, as part of a greater cycle… a cosmic ebb and flow that is always pulsating. Rather than feeling knocked down and stuck, I felt a surge of determination and clarity. I was able to get a glimpse of my life from a wider perspective, and see the challenges I've been facing as a small, but necessary bump in the road that would steer me more directly towards my true dharma (life's purpose).
My heart was soaring when I walked away from Coby's class, and I took a business card vowing to study with her at Kripalu one day.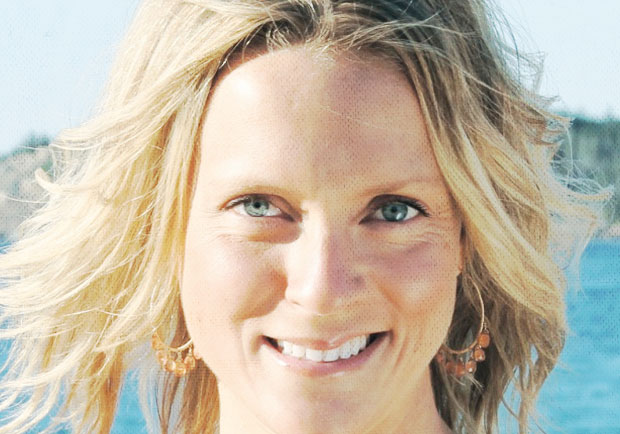 With all this stirring inside me, I enjoyed a quiet lunch before heading to my last class of the day: Getting High: Yoga, Meditation and The Infinite Pharmacy Within with Tommy Rosen.
Similarly to Kia, Tommy shared a unique blend of vinyasa and kundalini, using a strong flow to build heat and kriyas, directing energy up the spine. I felt a familiar inner voice as the class started—one of quiet worry about whether I could physically endure another strong session—but this time, the voice was quieter. The deeper I breathed, and the more committed I was to moving within my range of ability, the quieter the voice became. After a series of sun salutes, the voice was gone, and I was back in the flow again, feeling a sense of calm strength and fluidity I hadn't felt in months. The kriyas directed energy to our lower backs, an area of contention for me lately, but I moved slowly and with great care. The energy was there—buzzing inside—and I surrendered to it fully. As we moved into the closing kriya, arms outstretched overhead for five minutes as the room chanted Sat Nam over and over and over, I noticed a sense of peace in myself. It was something I've glimpsed inside me, maturing over the past few months… a deep sense of what I can only describe as calm abidance. It's as if the part of me that has been angry, fighting and resisting the struggles I've been facing in life was softening and accepting. It wasn't a sense of giving up or giving in, but rather a quiet knowing that everything was fine just as it was.
When the class ended, I felt an inner quietness I hadn't felt in a long time. The voice of worry, the voice of concern, the voice of control… it was gone. I put my yoga mat back in the car and took another glance out at the blotches of orange, red, yellow and gold dotting the mountains surrounding me. With that image in my heart, and a renewed sense of commitment to my practice and the veering, meandering path before me, I made my way back down the mountain. Only eight hours after I had arrived, yoga—once again—had wedged open my hardened heart and helped me see the brilliance and light that is always there, glimmering from under all the dust and rubble.