What do you buy for the yogi on your holiday shopping list?
As a yoga practitioner, someone that loves and respects our planet, and someone who grew up quite happily without an abundance of material things, I have mixed feelings about the often-obligatory gift-giving that happens every December. Whether you're celebrating Christmas, Hanukkah, Kwanzaa, the Solstice, or whatever—chances are you'll choose to buy some stuff for people and they'll buy some stuff for you, too.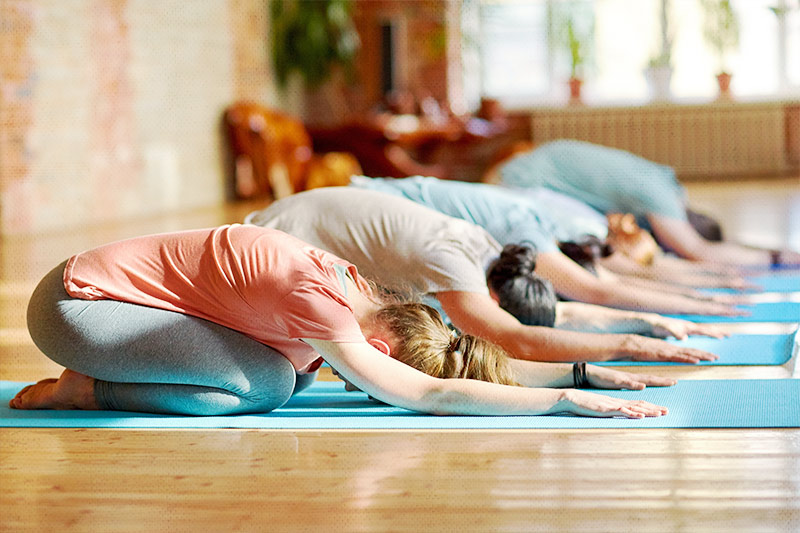 Intentional Holiday Gift-Giving
Like most things in life, it's all about intention — or, sankalpa. We set a sankalpa for our yoga practice and it becomes a framework for our mind and heart as we breathe and move. In this same way, gift-giving becomes a spiritual practice when it is framed with a deeper intention. Perhaps your gift-giving sankalpa is to create joy? To spread love? To remind loved ones of a cherished memory? Or to inspire right-action or positive change?
Take a moment to pause and breathe, and consider how you can infuse your sankalpa into the gifts – material or not – that you share with loved ones this season. And notice how your intentions can completely shift how you experience this often-frantic time of year.
The Best Gifts for Yoga Practitioners, Yoga Teachers, and Yoga Lovers
Here are some gift ideas—organized by intention—for the people on your Christmas list that love yoga! Consider this inspiration to get you started in the right direction…
Intention: Learn something new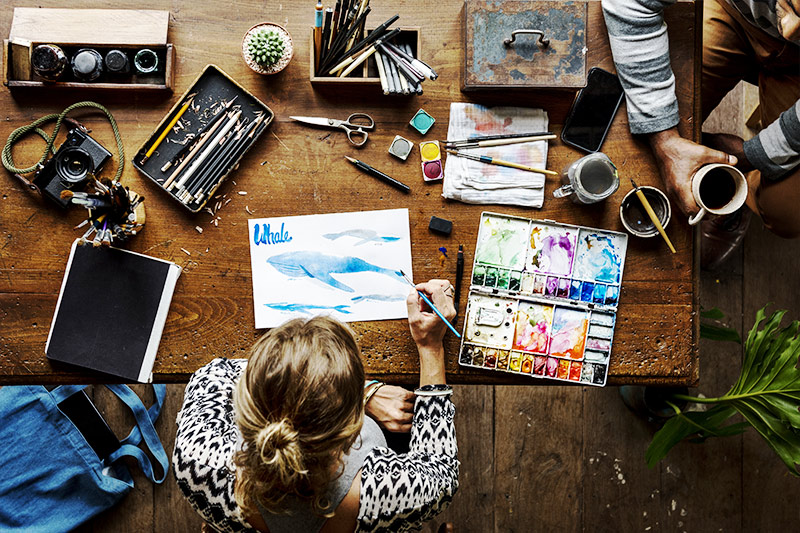 Gift: Lessons & Classes
For the adventurous, experience-seekers on your shopping list, consider purchasing a gift certificate or passes to learn a new trade or skill. Perhaps your friend likes pottery and may want to learn wheel-throwing? Maybe he's into athletics and would jump at the opportunity to try fencing? Couples and social singles may appreciate swing dance, salsa or tango lessons. You'll often find great deals on creative experiences at Groupon.
Tight on cash? Share a skill of your own! Offer a one-on-one cooking or baking session, take your friend ice skating or skiing and help them learn, or give a lesson on drawing, sewing, or playing guitar. Think of what you can share and be creative; You can even create a gift certificate to make your offering more official!
Intention: Grow your yoga practice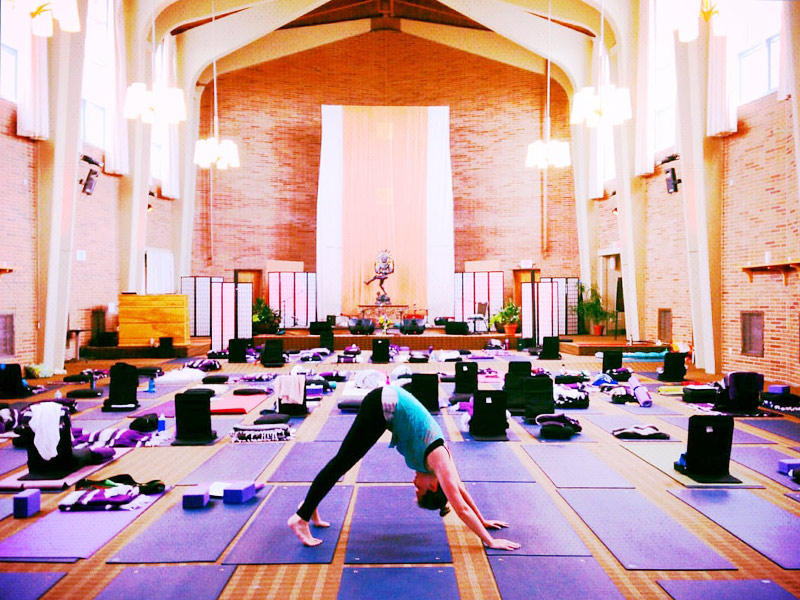 The Main Sanctuary at Kripalu, North America's largest yoga retreat center in Lenox, Massachusetts.
Gift: Class Passes, Workshops & Retreats
Dedicated yogis will always appreciate the opportunity to experience more of what they love. Consider purchasing a class card to a favorite studio, a workshop with his/her favorite teacher, or a retreat pass or gift certificate to a yoga center. If you're in the Capital Region, a single-day pass at Kripalu is $100-$125, or $50 on Wednesdays for Berkshire residents, which includes Troy and Albany. A visit to Kripalu includes three meals, yoga classes and access to the beautiful grounds, sauna, and whirlpool.
Here are some other great resources:
MindBodyOnline App – Use the app on your phone to find studios and deals near you. Consider a gift certificate for a workshop or class in a new style, such as Yin Yoga, Aerial Yoga, or Restorative.
YogaScapes – Exotic, global yoga retreats
YogaGlo – Consider an online subscription to an exceptional collection of classes and workshops
Intention: Share your yoga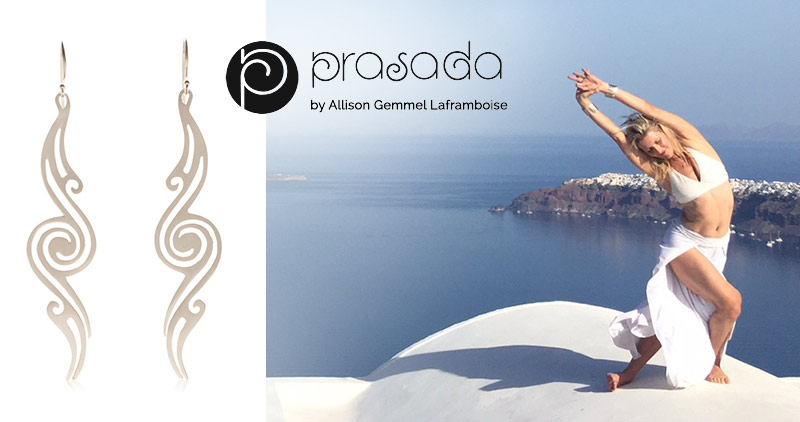 Gift: Unique yoga apparel, jewelry and crafts

Let's be honest, who doesn't dig a cute yoga tank top? Or a new pair of funky tights? While it might be tempting to shop the big-box stores who have acquired an increasingly-impressive selection of yoga and workout apparel over the past few years, why not support local artisans and small businesses, instead? Here are some unique shops to consider: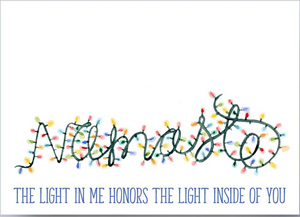 Starr Struck Designs – Yoga teacher, designer and writer Mary Catherine Starr sells yoga-inspired Christmas cards and prints. Her 'Because Yoga' tank was given to me for my birthday this past summer and is one of my favorites!
Prasada Spirit – Hand-crafted jewelry from Kripalu yoga teacher and KDZ drummer, Allison Gemmel Laframboise. I first discovered Allison's beautiful designs at the Kripalu gift shop; Her Four Directions Necklace and simple Life Spiral pendant are two of my most cherished items. Her new ShivaShakti collection is a collaboration with all-star teacher Shiva Rea.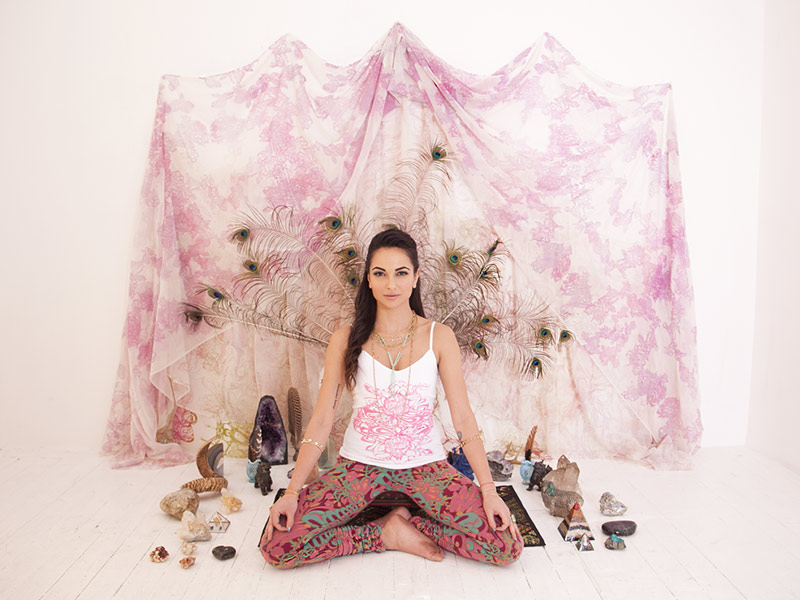 Victoria Keen – "High vibrational clothing" made in New York City by designer Victoria Keen, I first met her at Wanderlust Vermont in 2013, where I bought a pair of silkscreened pink-and-purple ruched yoga pants that are still my favorite to this day. Her online shop sells bright, colorful clothing, throw pillows and prints, all hand-designed by Victoria herself.
Yoga Tree Apparel™ – Artist and creator Jessica Albee found inspiration for her "Yoga Tree" art series from her holistic path to recovery from liver disease and urticaria. Yoga helped Albee heal her heart and regain a new sense of strength in spirit, mind and body. Her Etsy shop sells tanks, tees, hoodies, prints and temporary tattoos featuring her distinct drawings.
Intention: Care for your Self
Gift: Organic beauty and body care products
Anyone that practices yoga has made a conscious choice to take care of their body. As yoga has become more and more popular, so has its sister science of Ayurveda (ancient Indian medicine system), essential oil brands like dōTERRA and Young Living, and herbal, holistic and organic beauty products. If your yogi loves aromatherapy, natural products and self-pampering, consider making a gift basket with these great finds: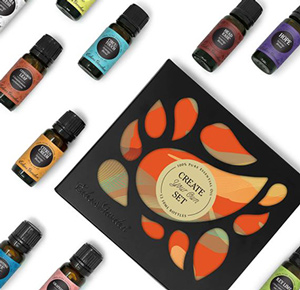 Eden's Garden – If you're on a budget, this is a fantastic alternative to the the multi-level marketing essential oil brands that must be ordered through a representative. You'll find synergy blends, single oils, and a variety of fun introductory sets—all at very reasonable prices! The Create-Your-Own sets are a great way to individualize your gift.

Indu aromatherapy products.

Indu Aromatherapy– Created by jivamukti yoga teacher Marni Task in 1998, Indu's signature scent product line includes lotions, aromatherapy sprays, mat cleaner, oil diffusers and gift sets. I was gifted this spray a few years back and can attest to its potent, relaxing qualities.

Banyan Botanicals – For yogis interested in Ayurveda, consider massage oil, herbs, soaps, or health bundles from this premiere brand.
Intention: Support your yoga practice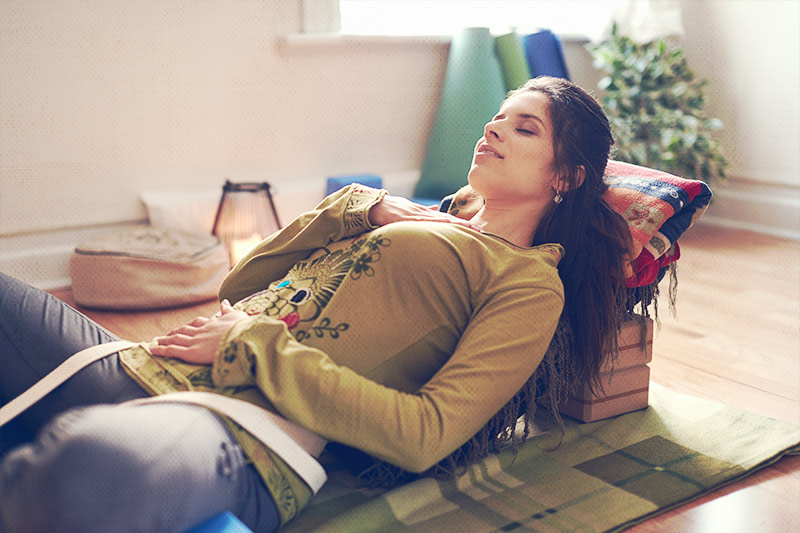 Gift: Yoga mats and props

You may have to do some digging to find out what your yoga-lover could use to enhance his or her practice. Here are some suggestions that most practitioners would find useful or inspiring: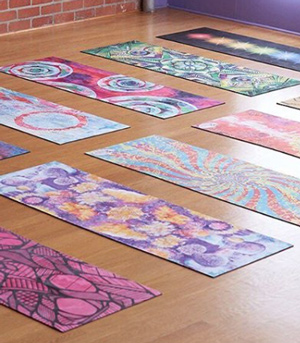 Sankalpa Yoga Mats – Speaking of Intention, this company has taken the concept to another level! Wish a mission to support yogis and artists, their gorgeous eco-friendly  yoga mat collection features designs from yogi-artists all over the world; Even better, each purchase directly supports the designer!
Yogitoes Non-Slip Towels – Hot yogis? If your yogi practices a sweaty style, consider one of these beautifully-designed, slip-free yoga towels from Manduka.
Vermont Soap Yoga Mat Spray – One of my favorites! Free of synthetic chemicals and fragrances, this safe, mild soap is perfect for cleaning mats and more. I recommend the travel size spray, which fits easily into any yoga bag.
Zafu / Meditation Pillow – While a special pillow is not required for meditation, it certainly is a nice treat and an inviting seat! Shop Etsy for a variety of homemade meditation pillows, or if you're feeling crafty, follow these instructions to make your own zafu!
Fair-Trade Mexican Blankets – Most studios have piles of these colorful, easily folded blankets on hand, and blankets are a necessary prop for most yoga styles. Consider an ethically-sourced, artisan-made yoga blanket from The Little Market, a non-profit "founded by women to empower women".
Yoga Eye Pillow – Another easy-to-make gift for the crafty folks, Yoga Journal offers a handy How To Make Eye Pillows guide if you'd like to add an element of luxury to your yogi's savasana. Otherwise, Etsy has a large variety of handmade eye pillows you can order online.
Intention: Heal from physical pain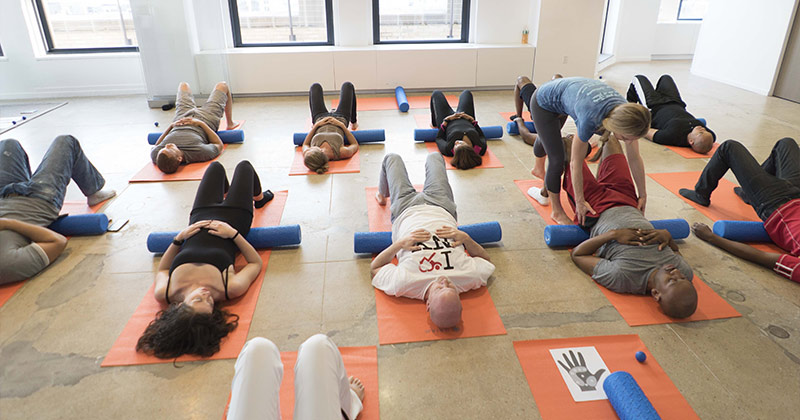 Gift: Self-massage and myofascial release tools

Yoga stretches the body, opens the mind, heart, and spirit, and can heal. But some physical trauma, injuries and chronic disease can create imbalance in the form of scar tissue, muscle "knots" and adhesions. Physical therapy and medical massage are often helpful, but consistent treatment can be expensive. I've used a variety of self-massage tools over the years to manage my own pain from psoriatic arthritis, and consider all of these tools great gifts for self-motivated individuals experiencing chronic pain:
Soma System – I bought this self-massage kit that includes a variety of therapy balls, a foam roller, hand roller and double-ball roller for the spine. Their offerings have expanded since then, and they now offer online courses and trainings. I actually bring some of these tools with me on vacation, that's how effective they are!

The humble foam roller is an effective, affordable tool for learning muscle-release techniques.

The MELT Method – If you're lucky, you may be able to find a MELT workshop near you! MELT was created by New York City manual therapist and connective tissue specialist Sue Hitzmann and involves the use of a special, extra-long foam roller to release accumulated tension. You'll find online classes at MELT On Demand and their unique products in the store.
Foam Rollers – Prefer to keep it simple? Skip the kits and get a basic foam roller as an introduction to self-therapy. I started with a very simple Gaiam foam roller that came with a 10-minute DVD, and I still incorporate many of the exercises into my yoga practice.
Think Outside the Shopping Cart
Do you remember the presents you opened last year? What about the year before? Material gifts can be fleeting… but intentions have weight. A sankalpa is lasting. I hope you find this holiday season enriched by your own gracious intentions, and I hope those ripples create positive change to all those around you!
Namaste,
Raeanne