Jump to recipe
You know that feeling you get when you're in a yoga class that's going at a faster pace than you're comfortable with and you struggle to keep up? You frantically try to hit all the poses the instructor cues, and halfway through you're like, "Wait—have I even been breathing?!"
That's how I felt making this Vegan Panettone. But not to worry—I felt that anxiety so you won't have to. The panic and rushing was totally on me and my lack of preparation mixed with an excess of ambition and a change of plans on the fly. I also tend to get anxiety about anything that involves yeast doing its job, but that is generally quickly resolved by using fresh yeast. I have reordered the steps I took so that you aren't running around doing everything at once like I did. Those cooking shows that have all their ingredients lined up in tiny bowls have the right idea, especially for something as precise and scientific as baking.
This recipe is a piece of cake… a vegan version of panettone: a Milanese sweet, leavened bread traditionally consumed around the world at Christmastime.
As always, to decrease new recipe anxiety, I recommend you read through all of the ingredients and instructions a couple of times before diving in. You can even rearrange the steps as you like. For example, if you're feeling rushed because your yeast is proofing quickly, you can feel free to skip prepping the fillings completely and focus on the dough. Then, you'll have an entire hour or two to prepare the nuts, fruits, chocolate, and zests. If you do that, you'll only need one giant bowl for the first rise. After that, you can divide the dough in two, knead in the distinguishing flavors, and place everything in the baking containers.
This recipe is really a piece of cake—a piece of Italian bread cake. It's a vegan version of panettone: a Milanese sweet, leavened bread that is traditionally consumed around Christmas time in Italy and other European countries as well as Latin America. My husband is Brazilian and is fond of the more modern chocolate panettone. I wanted to make both the chocolate and dried fruit versions, so this recipe is for one base dough split in half and mixed with the different fillings.
Professional panettone breads are made with dough that is proofed for days, similar to making a sourdough, but this version we are making only needs to rise for relatively short amounts of time. If you are an experienced bread maker who wants to experiment with using a starter, be my guest—apparently it extends the shelf life if you do it that way. Another thing that the professionals use that I did not have are panettone papers or molds. Panettone is a very specific shape—cylindrical and fairly tall, especially after the rise. I did not have anything in the six-inch circumference range, and didn't feel like dropping $35 on a mold or tracking down where to acquire these specialty baking papers. In the end, I used ramekins, like the ones you make creme brûlée in. Most of those I got from the target dollar section.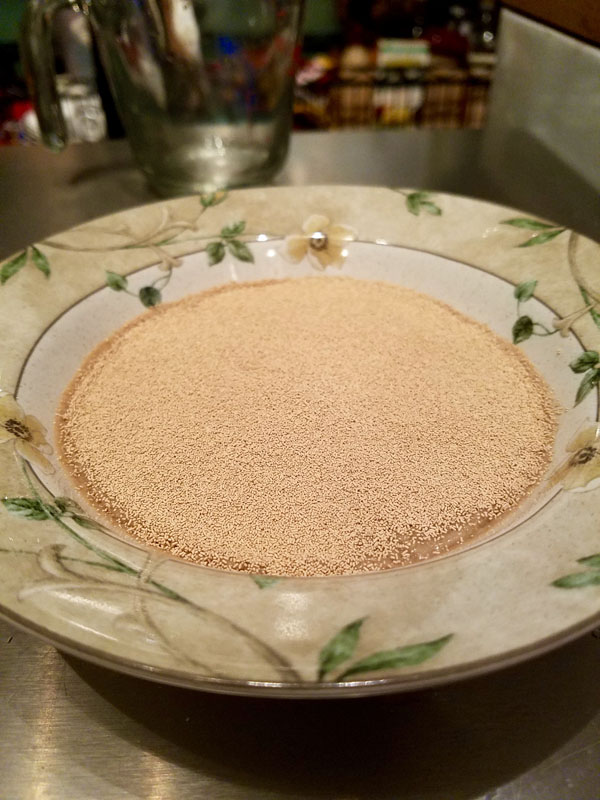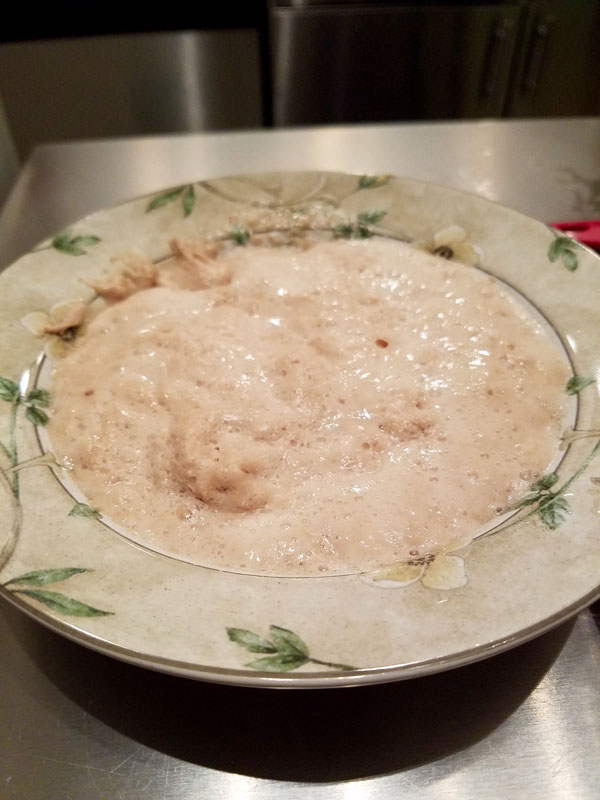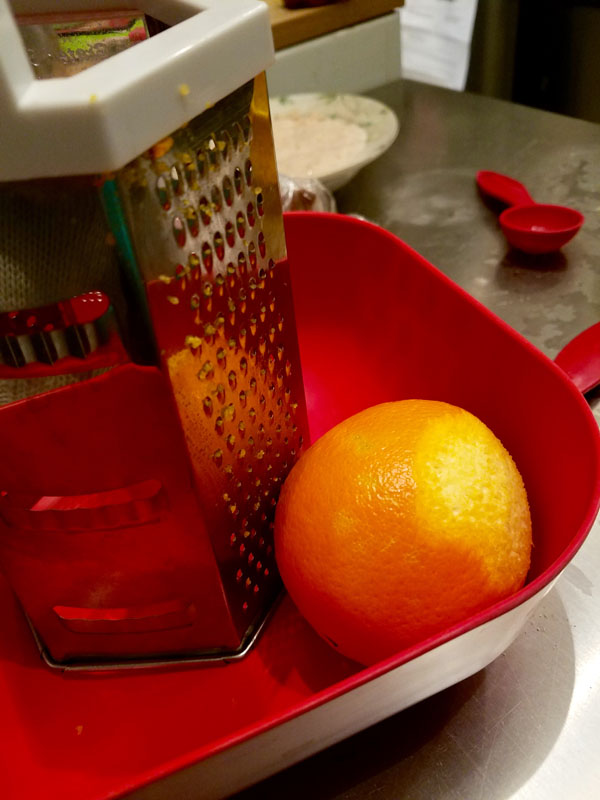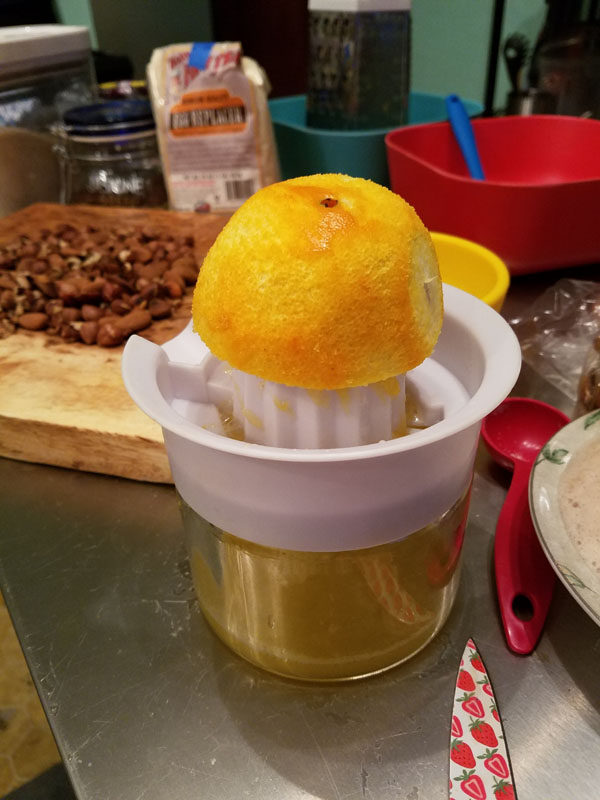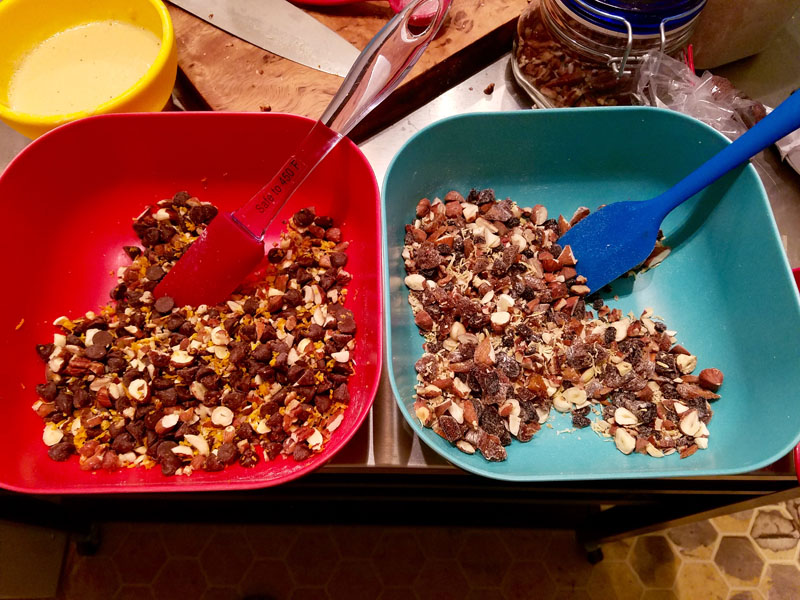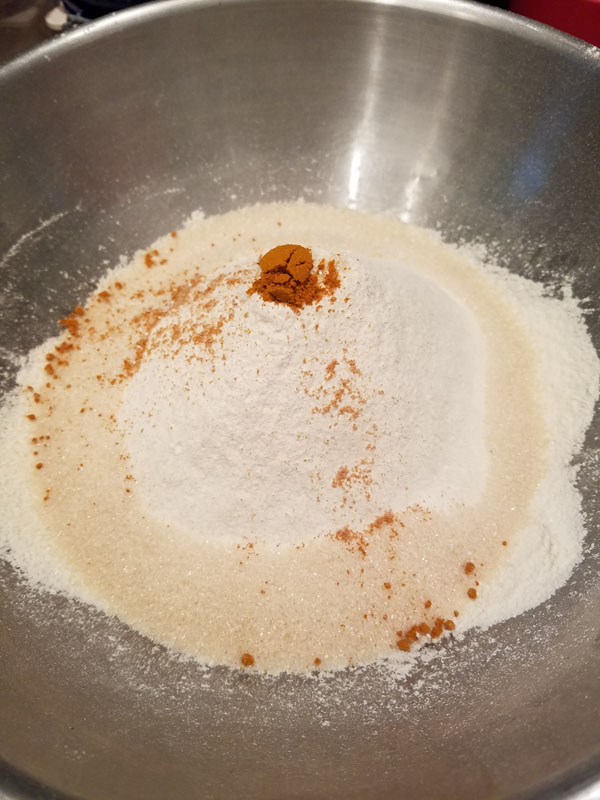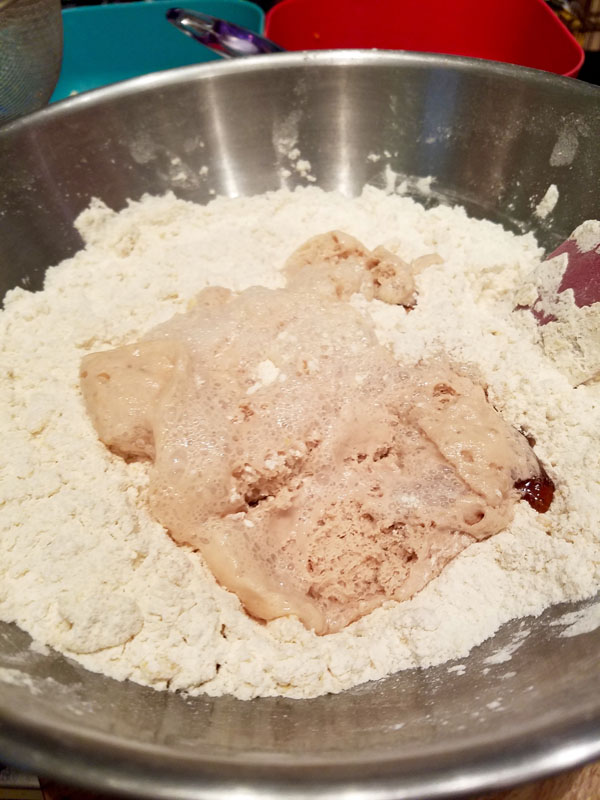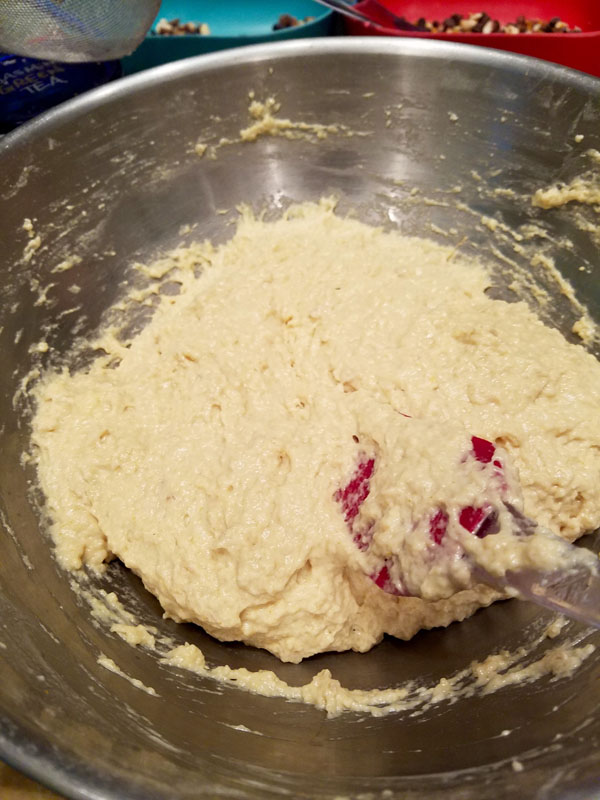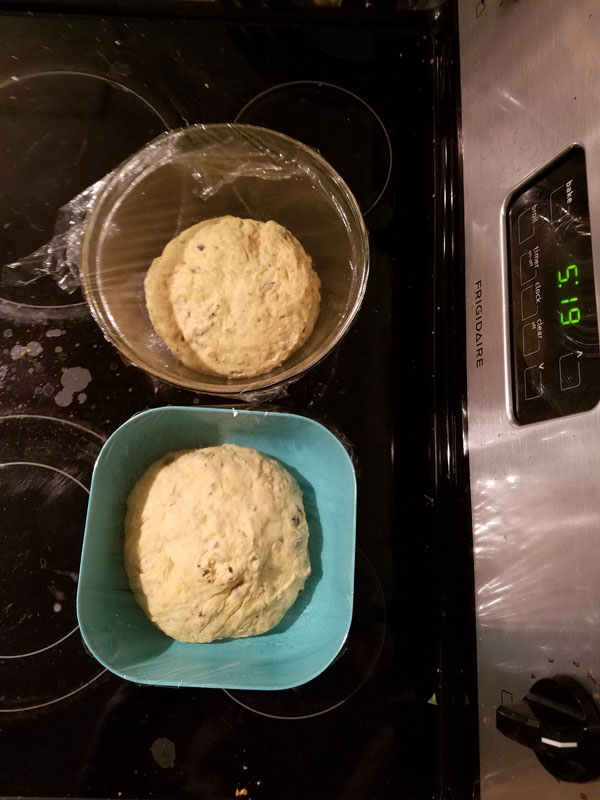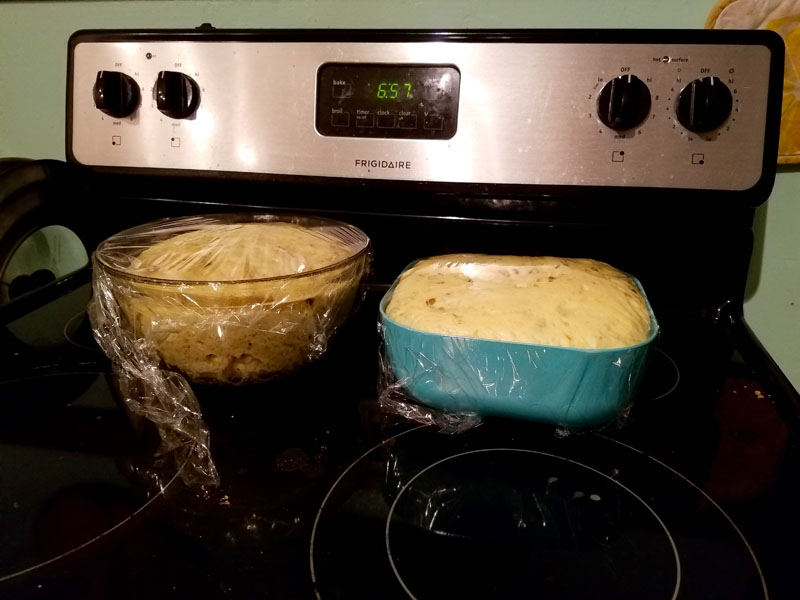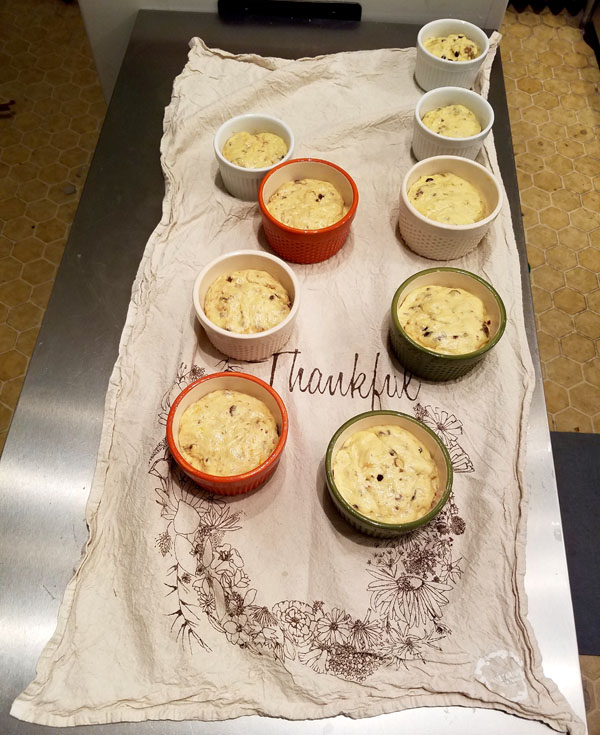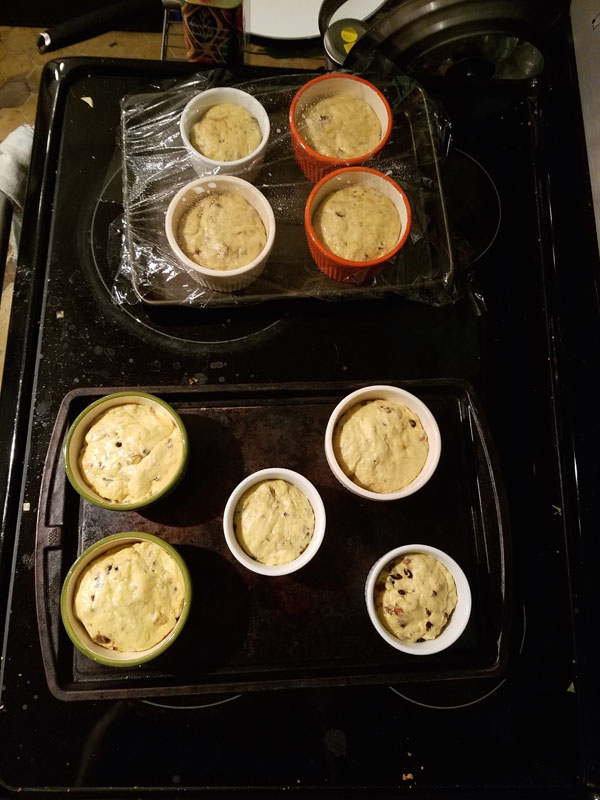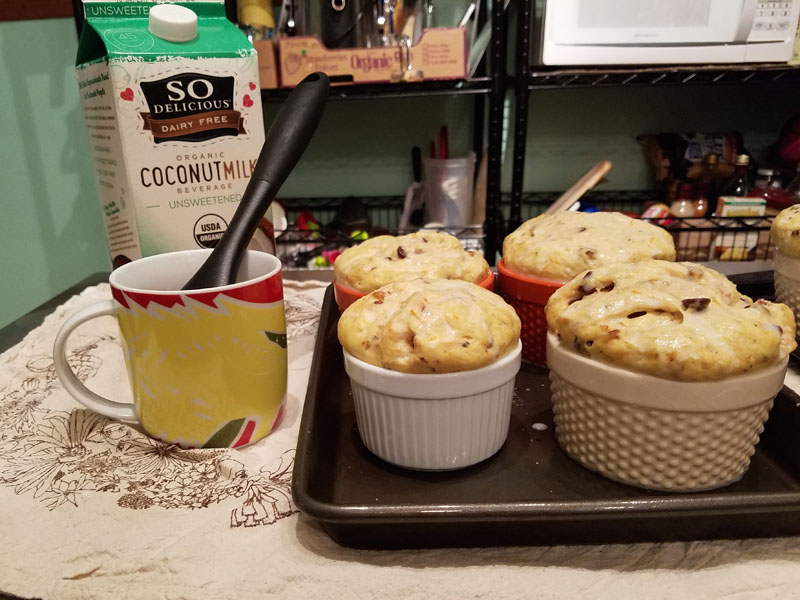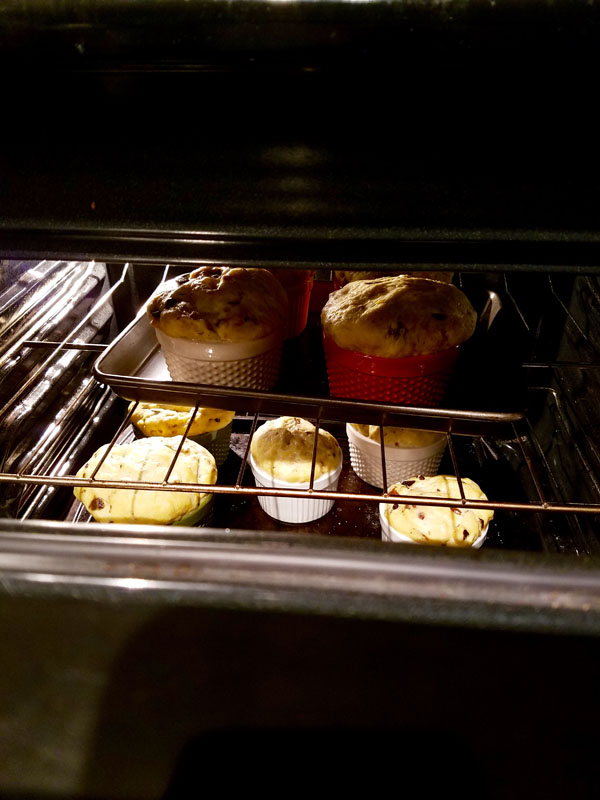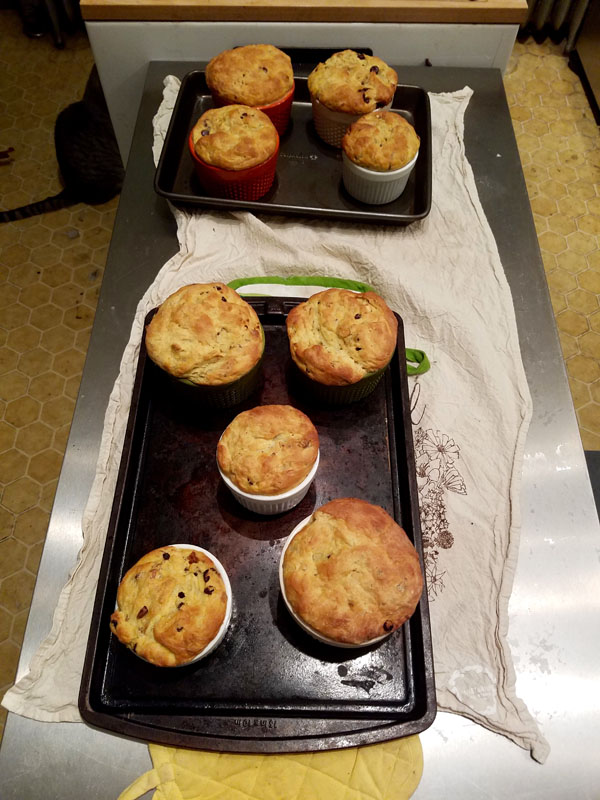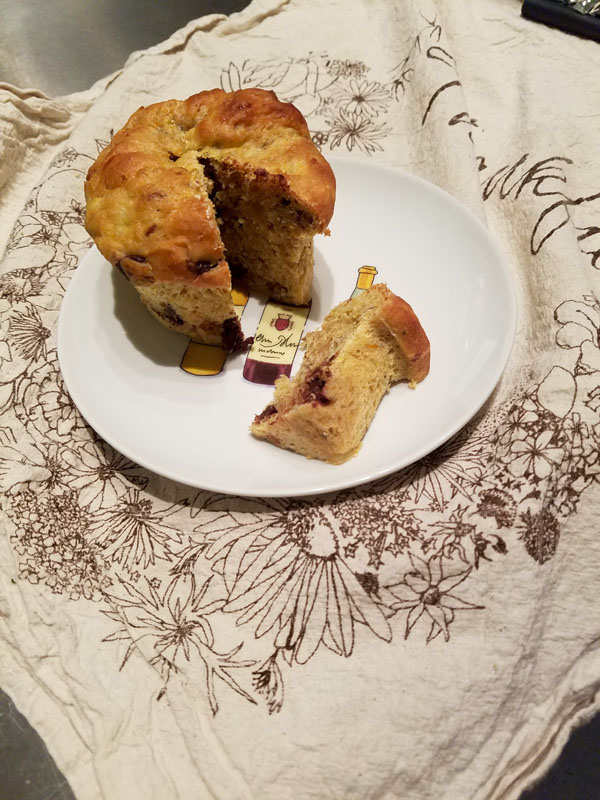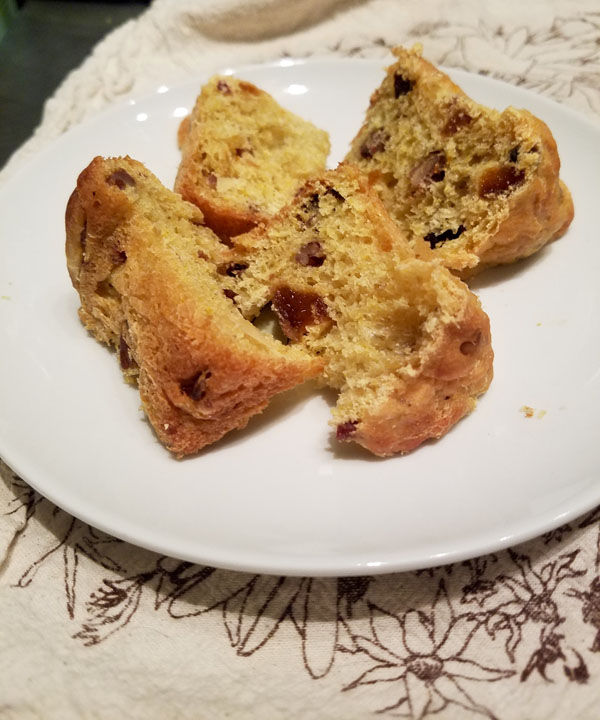 Holiday Recipe: Vegan Panettone (A Non-Traditional Tradition)

A delicious vegan version of the class Milanese Christmas fruit cake.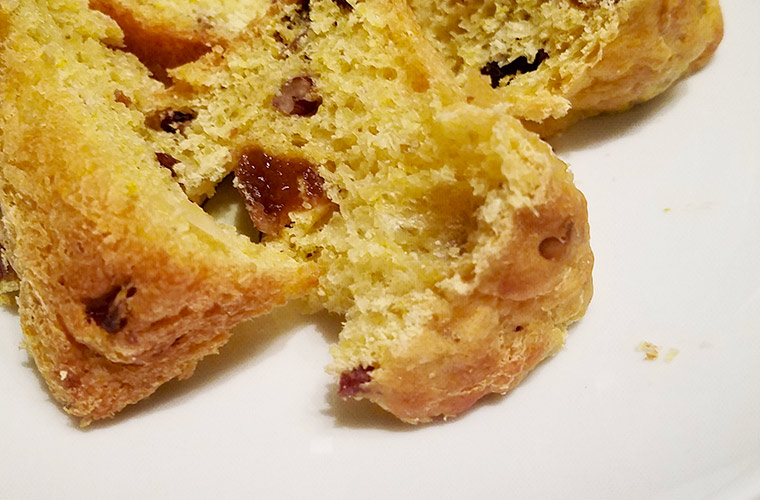 Ingredients
1 cup mixed nuts (use raw so you can roast your own or unsalted roasted)
1 orange (for zest and juice)
2 tbsp yeast
2 tsp + 1/2 cup sugar, divided
2 tbsp ground flax (or other powdered egg replacer)
6 tbsp orange juice (from orange listed above)
1/2 tsp baking powder
1 1/2 cups plain, unsweetened non-dairy milk
4 cups flour, plus more for kneading
3 tbsp softened vegan butter
1/2 tsp turmeric
1/4 tsp salt
1 tsp almond extract
1 tbsp vanilla extract
1 tbsp agave nectar or maple syrup
1 lemon for zest
1/2 cup mixed candied or dried fruit of choice (raisins, currants, dried cranberries, dried apricots, etc.)
1/2 cup chocolate chips
Instructions
Toast whole, raw nuts in a dry, heavy skillet over medium heat for a few minutes until fragrant. Stir frequently and watch them so they don't burn.
Transfer your nuts to a cutting board and chop into small pieces. Divide evenly into two bowls—one fruit bowl and one chocolate bowl.
Heat milk. I did this at this point so I could get the milk past the ideal temperature and wait for it to drop to the correct temperature of 100-110 degrees Fahrenheit as I completed the other steps.
Anything hotter will ruin the yeast, so be mindful of your milk temp.
Zest the orange into what will be the chocolate-flavored bowl.
Juice the orange and combine 6 tbsp of the juice (if there isn't enough, feel free to add water) into a small bowl.
Mix in flax meal or egg replacer powder and baking powder. It should sit for 10 minutes to thicken up into egg consistency.
Proof the yeast by combining it with 1/4 cup warm water (not over 110 degrees) and 2 tsp sugar in a small bowl. Allow to bubble and expand for 10-20 minutes, it should be very active.
Cut any larger dried fruit such as apricots into raisin-sized pieces.
Combine the mix of dried fruit into a 1/2 cup measure and put into the bowl with the nuts. Then, zest the lemon into the bowl, and add the chocolate.
Mix 1/2 tbsp flour into each of the those nut mix bowls and stir to coat.
Sift flour, sugar, turmeric, and salt into a large bowl or a stand mixer if you're blessed. If using a stand mixer, use the dough hook attachment and mix continuously on low speed as you add the ingredients. Then, increase the speed a bit and mix until smooth on the outside.
While mixing continuously, add vegan butter, vegan egg and OJ mixture, almond and vanilla extracts, yeast, and agave.
Add the milk, (which should now be at the correct temperature) and mix (and mix and mix and mix). Seriously, keep mixing… your arms will be very sore like mine were. I used a stiff rubber spatula to mix and sort of mimicked the movements of a dough hook in a stand mixer, I scraped the side and cut into the center with almost every movement.
Once it looks less lumpy, you can move it onto a lightly floured surface and knead for several minutes until smooth.

Side note:

when I was making this, I struggled because the original recipe I was working from called for a cup less flour, which made the dough a sticky, impossible mess. I think with the added cup in my version it should be more manageable, but feel free to add some more flour, a little at a time. To help with sticking, I coated my hands in olive oil instead of the usual flour. I think this ultimately made the bread more moist and delicious. I also split the dough in two pieces and kneaded separately, which made it more manageable and less exhausting to knead.
Knead the nut/fruit/lemon mixture into one of the dough balls and the nut/chocolate/orange into the other. Place each into their respective greased bowls and cover with plastic wrap or a damp tea towel. Allow to rise in a warm place for 1-2 hours, until doubled in size.
Grease the containers the dough will be baked in.
After the first rise, separate into small even-sized pieces to fit the containers you are using (unless you are baking as one big loaf).
Roll the pieces into balls before pressing into the containers. The dough should fill about half the container or less.
Let rise again for 30 minutes to an hour in a warm place. They don't have to be covered for this rise, but if you do want to cover, make sure to grease the plastic wrap so you don't collapse the rise when removing it.
When fully risen, your dough should be fairly tall over the rim of your container. You can brush the top with non-dairy milk if you'd like.
Bake the bread for 30-35 minutes at 350 degrees Fahrenheit if making ramekin-sized breads like I did, or up to 45 minutes if baking a large loaf. I believe my ceramic containers made the sides of my bread softer than they would be in a traditional pan or paper, so I extended the time a little bit.
Allow to cool completely, transferring to a cooling rack.
You can sprinkle powdered sugar on top for presentation, or if you want to go all out you can decorate with more dried fruits or a chocolate glaze.
Serve this bread sliced like a cake within a couple of days, as home-baked panettone doesn't last nearly as long as the store bought.
© 2023 © 2016 Left Brain Wright LLC. All Rights Reserved.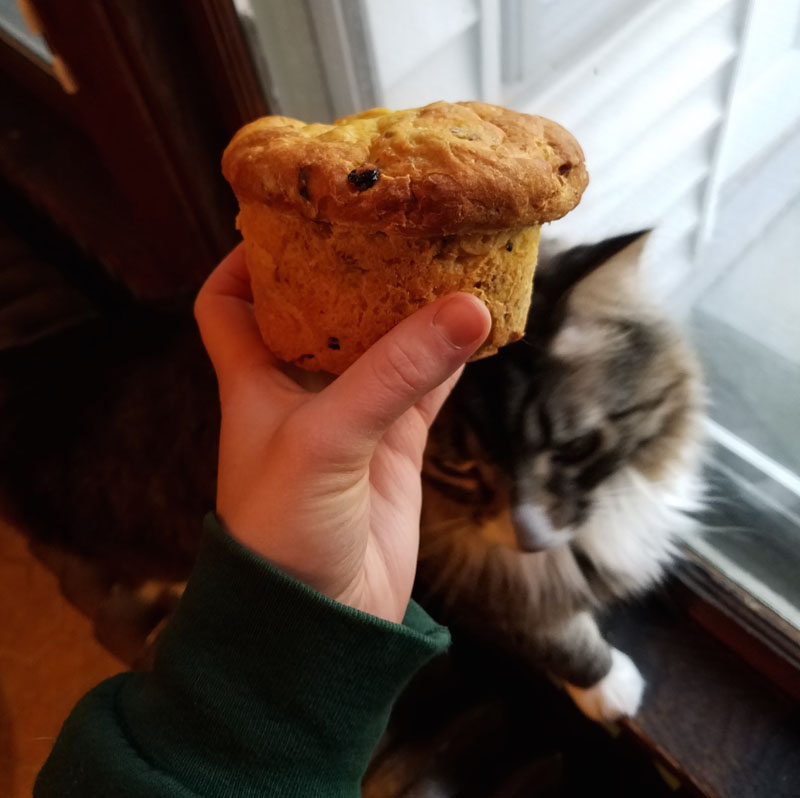 I hope you enjoy this recipe and have a fantastic holiday season!