Jump to recipe
When I was little, I found my own way to distinguish between my grandparents. Both sets couldn't just be "grandma" and "grandpa." Luckily, each grandma had her own distinct sense of style. My dad's mom wore purple all the time, so she became "Purple Grandma." My mom's mom wore a pastel shade of pink fairly often, so she was "Pink Grandma."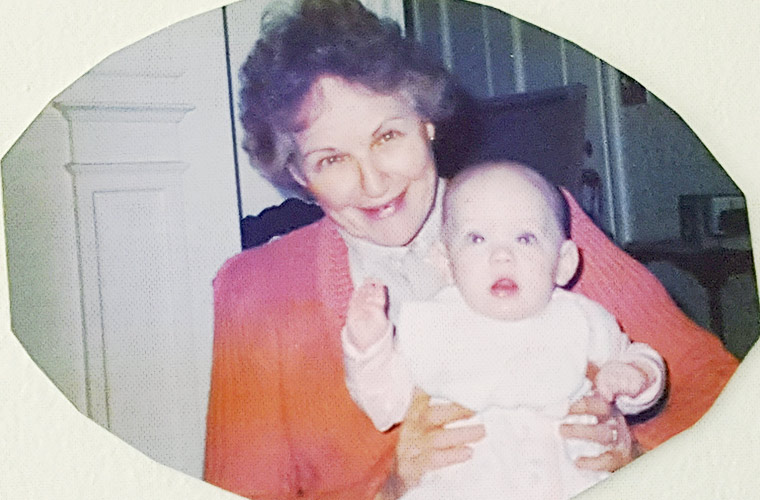 One day, before heading off to college, I was compiling recipes in a notebook my best friend had given me. She wanted to make sure I wouldn't be completely lost in the kitchen once I got there. One of the first things I wanted to include in my notebook was Pink Grandma's Banana Bread. This is the epitome of comfort food—full of sweetness and moist with oils. The added bonus is that it's a close relative of cake, but you can eat it for breakfast!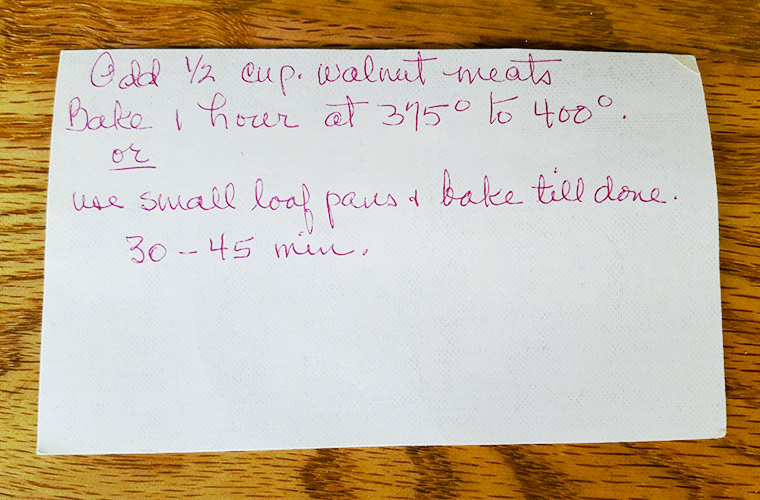 Upon going vegan, I was warned of trying to substitute more than one egg in any traditional to plant-based recipe conversion. So, I searched the Internet high and low for a vegan banana bread that would be comparable to my grandma's. Some got close, but nothing compared to that excessive use of vegetable shortening and sugar. I returned to the "old faithful" recipe from my grandma, using two different egg alternatives that I hoped would balance each other out. The flax egg gives a nice nutty flavor to accent the walnuts, and the applesauce egg is great for vegan baked goods in general.
Banana bread is a fantastic way to use up overripe bananas, and you don't have to worry about doing it quickly. Where bananas are concerned, it's the riper, the better. I had intended to make this bread on a Sunday and ended up waiting until Tuesday to do it, which probably made it a better sweet bread. If you prefer to consume your bananas with fewer added calories and carbohydrates (i.e., not in bread form), but have overripe bananas on hand, I recommend peeling them, cutting them in half or thirds, and placing them in a bag to freeze. This works best if you can lay the bag flat so the bananas are in a single layer—this way, they won't get frozen together in one big clump.
One more note on bananas—I work in a cooperative grocery store that only carries organic, fair trade bananas for a reason. To learn more about why we do that, I encourage you to watch this interactive documentary, Beyond the Seal, made by Equal Exchange Co-op. This video will give you a glimpse into the lives of people in Ecuador working in the banana industry, as well as the positive impact fair trade practices have on their lives. It also contains information about the harm conventional bananas have done to people who worked for years in the banana fields. Another fun fact: Equal Exchange has also declared March to be Banana Month (as if we needed more reasons to eat them)! Final fun fact: bananas are the number one selling produce item by volume in the United States.
On this occasion, I made Pink Grandma's Banana Bread for our new neighbor and old friend, Kyle Maloney. Even if you don't know a new neighbor personally, bringing freshly baked goods is a fantastic welcome gesture, and a tradition that, sadly, seems to be fading away. If you're baking in a foil loaf pan, you can bring the bread over as is. I used my metal loaf pan, so I flipped the bread out of the pan to cool a little before wrapping it in tin foil for the delivery. If you prefer, you can make banana bread muffins instead (use liners if you're making them for someone else).
Without further ado, here is the recipe!
Preheat your ovens to 375 degrees Fahrenheit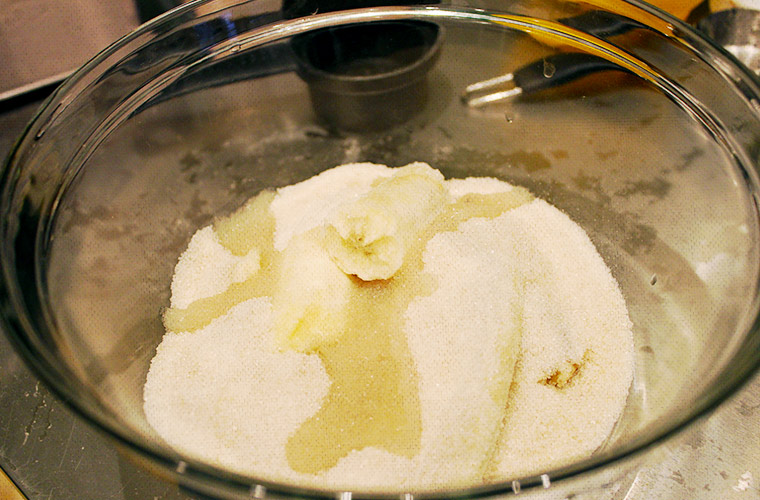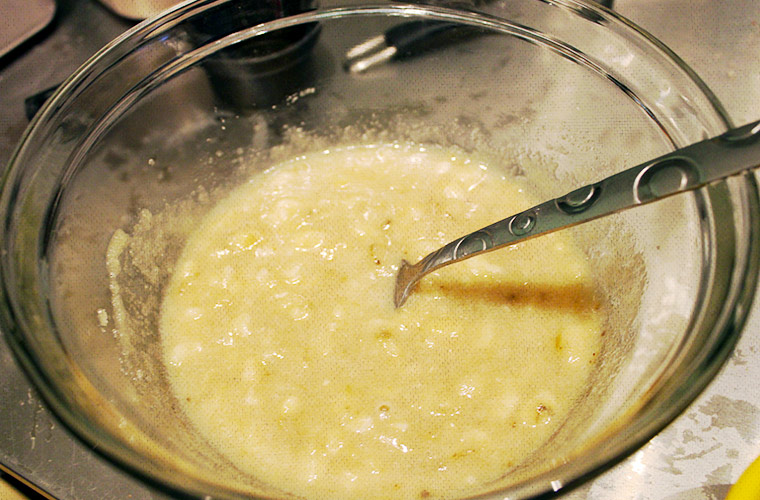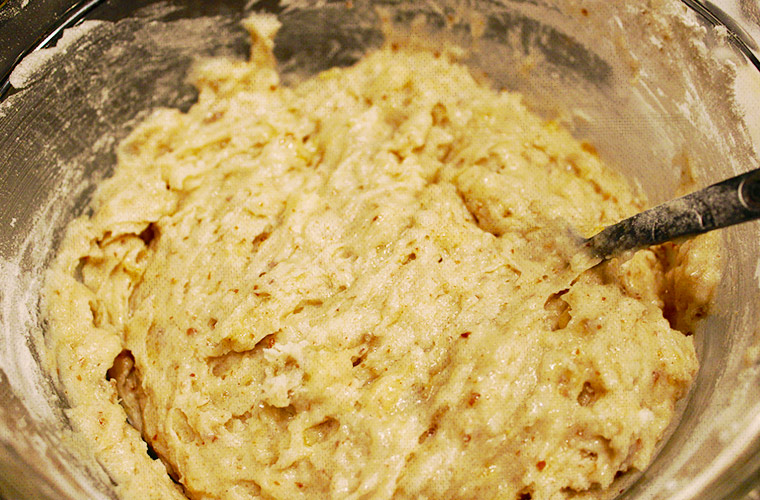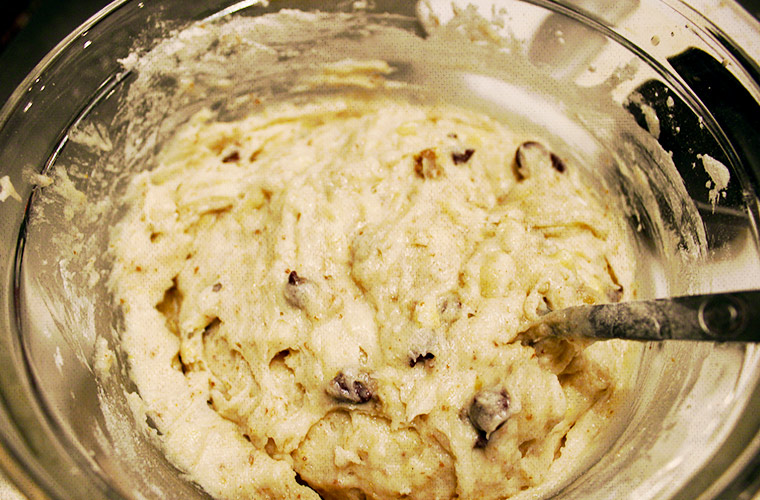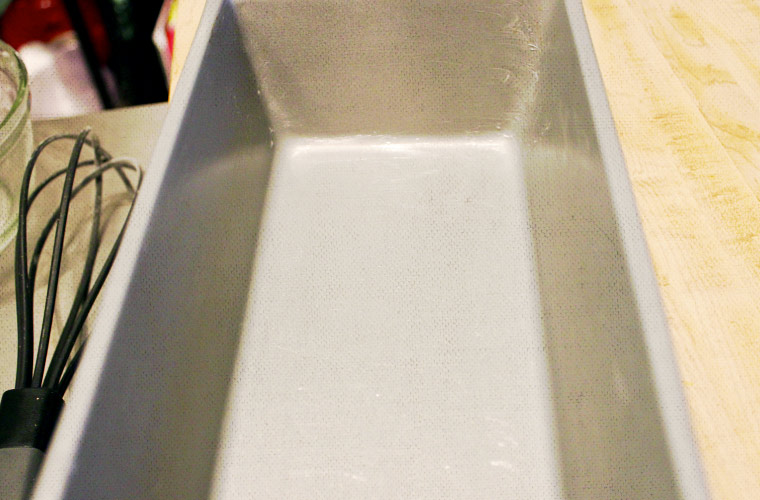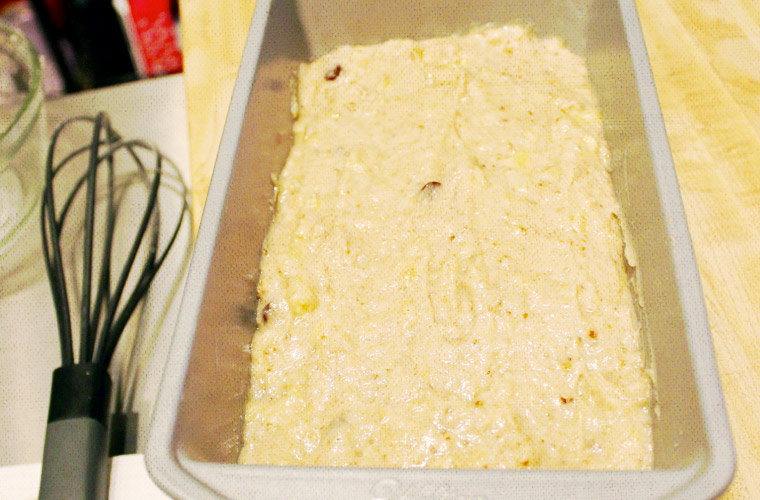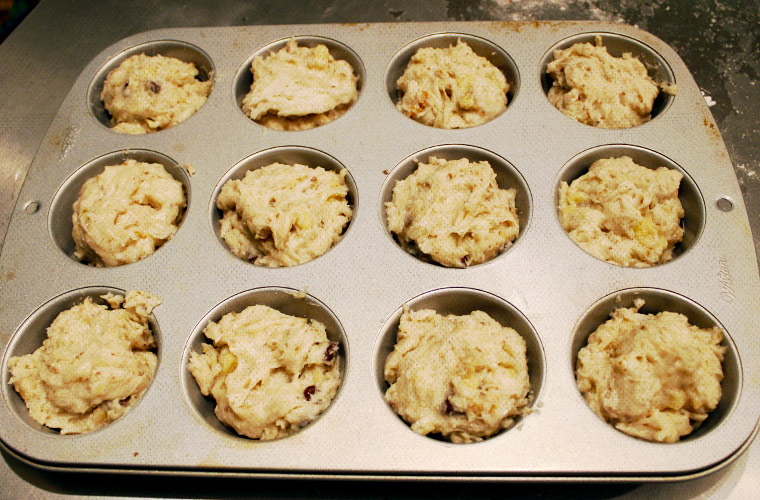 Pink Grandma's Banana Bread by Kate Glenn

Serving Size
One muffin or one slice
Notes
Oven temperatures vary; Make sure to check on the loaf–you can usually smell when it's getting close to done. My grandma called for 375-400 degree temp but I'd say 350-375 is safer if you don't want some extra crispy bread.

Ingredients
Wet:
3 very ripe bananas, peeled
1 cup organic sugar*
1 tablespoon cold water


1/4 cup melted vegetable shortening, plus extra for greasing pan
1 tablespoon ground flax seeds
3 tablespoons water
1/4 cup unsweetened applesauce


Dry:
1 teaspoon salt
2 cups all purpose unbleached flour
1 teaspoon baking powder
1 teaspoon baking soda


Additions (optional):
1/4 cup chopped walnuts
1/4 cup dark chocolate chips
*using organic is important to be sure the sugar is vegan, most white conventional sugar is filtered through animal bone char
Instructions
Preheat oven to 375 degrees Fahrenheit 
In a large bowl combine 3 bananas, sugar, and cold water
Mash together with a fork until well combined, let sit for 15 minutes
In a small bowl mix together ground flax seeds and water, let sit for 10 minutes
In a medium bowl combine salt, flour, baking powder, and baking soda
Measure out vegetable shortening and applesauce
Grease loaf pan or 12-cup muffin tin with extra vegetable shortening, or place liners in the muffin tin
Pour flax egg, melted vegetable shortening and applesauce into the bowl with the banana mixture, stir until well combined
Add dry mix to wet mix and stir until just combined, try not to over mix
Fold in walnuts and chocolate chips carefully
Pour dough into loaf pan or measure into muffin cups, a mounded scoop in a 1/4 cup measuring scoop works well
Bake muffins for 20-25 minutes or loaf for 1 hour, or until golden brown and a knife stuck into the middle comes out clean
Nutrition Facts
Pink Grandma's Banana Bread by Kate Glenn
Serves: 12 muffins or one loaf (12 servings)
Amount Per Serving:

One muffin or one slice

Calories

177 calories per serving

% Daily Value*
Total Fat
0
Saturated Fat
0
Trans Fat
Cholesterol
0
Sodium
0
Total Carbohydrate
0
Dietary Fiber
0
Sugars
Protein
| | |
| --- | --- |
| Vitamin A | Vitamin C |
| Calcium | Iron |
* Percent Daily Values are based on a 2,000 calorie diet. Your daily values may be higher or lower depending on your calorie needs.
© 2023 © 2016 Left Brain Wright LLC. All Rights Reserved.