Jump to recipe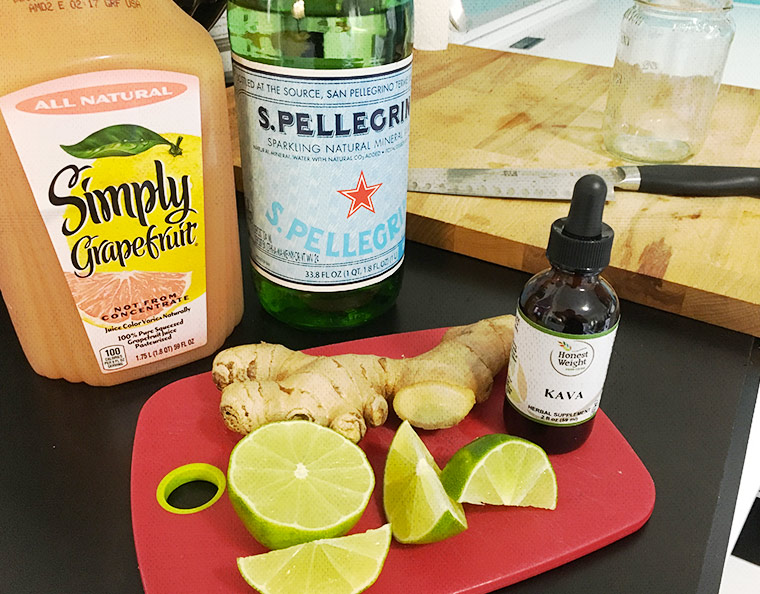 I used to be such a wine-o. I'm talking the polish-off-a-bottle-of-shiraz-on-a-Tuesday-night kind of wine-o! But these days, my guts just can't handle my beloved deep, dark reds. In fact, alcohol of any kind seems to rev up inflammation in my body, leaving me with swollen, angry joints and mood swings for several days. Just lovely.
So lately, I've been on the look out for tasty, mood-altering alternatives for those moments when you just need *something* to help take the edge off. Enter the incredible kava root!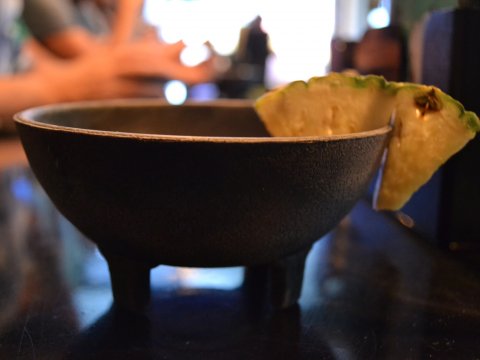 I first heard of kava several years ago when a friend mentioned it was helpful for stress and suggested a dried tea. I tried it and clearly the experience was forgettable, because I hadn't heard mention of the magical root for many years until it popped up again, this time while looking up activities for an upcoming trip to Florida. I found a deal available for Pacific Rootz Kava Lounge in Orlando, and after a few clicks, was reading all about the curious root that has been revered for centuries in the Pacific, where it's used for medicinal, religious, cultural, and social purposes. In Fiji, presenting a gift of fresh yaqona (kava root) as a gift to the head of the village is customary and expected.
The Pacific Rootz website claimed, "As soon as you take a sip you are instantly overtaken by a feeling of euphoria and relaxation. A beverage that has proven to release tension, calm nerves, and relieve social anxiety." (Learn more about kava's medicinal qualities here.)
"My mouth felt a little tingly and numb…15 minutes later I felt a little like I was floating on clouds."
I was intrigued—and even more so when I quite literally stumbled upon another kava bar in downtown Melbourne, Florida. My partner and I decided to check it out, wandering off the street and into a cool, dark lounge with reggae throbbing over the sound system. Since it was our first kava experience, the bartender explained that she would join us, pouring three chalky-looking drinks into wide, shallow bowls—an homage to the traditional bilo, or half of a coconut shell, in which it's traditionally served.
Together, we toasted bula, meaning "to life"—part of kava ceremonial etiquette—then finished our drinks in one gulp, chasing the bitter, earthy taste with a wedge of pineapple. My mouth felt a little tingly and numb—but we ordered another, and 15 minutes later I felt a little like I was floating on clouds. So relaxed!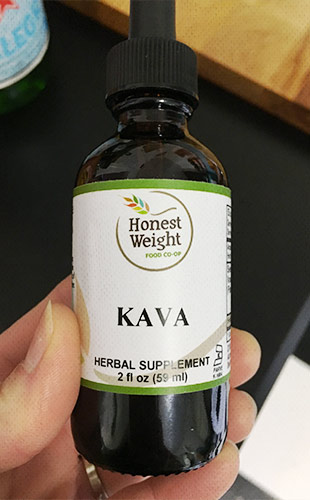 My experience with kava was so positive that we stopped at the lounge in Orlando before flying home, and when we landed back in Albany, I did some additional hunting to see if kava was available anywhere near home. While the good word about kava seems to be spreading, with lounges popping up in cities like Portland, Denver and New York, the closest thing I could find at home was a tincture made from the root at our local food cooperative, Honest Weight Food Co-op. While the tincture's effect isn't quite as strong as the drinks I enjoyed in Florida, it does still have a relaxing effect, inspiring me to experiment with my own kava "cocktail" recipes.
The kava root tincture is quite strong, and the dosage calls for a full dropper in about 2 oz. of juice or water. After some experimenting, I've found that the tart, slight bitterness to grapefruit juice masks the intensity of kava, while ginger gives the drink some dimension and spice.
To make the drink, I recommend that you start with my ginger concentrate recipe and make ice cubes. While it does require more planning, ginger ice cubes are a convenient way to make homemade ginger tea or other ginger beverages in a flash. For tea, simply pour boiling water over one cube. You can also add cubes to smoothies or soups for a spicy ginger twist.
Simply wash and cut up a good-sized ginger root (about the size of your hand) into slices so that you have roughly 1 cup of loosely packed ginger.
Add it to about 6 cups of boiling water and let it simmer for about an hour. If you let it go longer, the water will simply reduce more and make a stronger concentrate.
Let your pot cool a bit, then strain into a pourable bowl and pour into ice cube trays to freeze. The result is the perfect single-serving of ginger for hot tea, smoothies, iced tea or lemonade, and—of course—my kava cocktail recipe!
Here is a handy cheat sheet:
Once you have the cubes, just add a serving of kava root extract to a couple ounces of juice and a squeeze of lime in a cocktail glass. Stir, top off with Pellegrino sparkling water, and your ginger cube. If you prefer a sweeter beverage, simply add more juice or a touch raw honey of agave nectar.
The result is a refreshing, alcohol-free cocktail that's tart and assertive. While this certainly isn't a traditional use of kava, it certainly is a healthy alcohol-alternative and a refreshing treat that can ease stress and help you chill out after a long day—without the hangover! I say, "Bula!" to that!
Grapefruit Kava Cocktail with Ginger Ice Cubes

This tart, assertive cocktail is a refreshing alternative to alcohol. A great addition to this drink and many others, use the (optional) ginger ice cubes to add a kick!
Ginger ice cubes can also be used to make hot tea (just add boiling water to one cube!) or added to soups, smoothies, or any hot or cold beverage.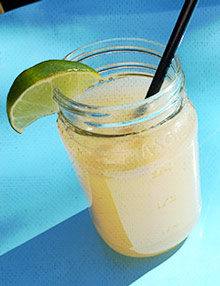 Ingredients
1 dropper (about 40 drops) kava root extract
2 oz. grapefruit juice
1 ginger ice cube (optional - see recipe follows)
4-6 oz. Pellegrino
1/2 tsp. fresh lime juice
For the Ginger Ice Cubes
1 cup sliced fresh ginger, loosely packed
6 cups water
Instructions
For the Kava Cocktail
Add kava root extract, grapefruit juice, lime juice to a glass or mason jar.
Stir well by swirling or using a chop stick.
Add one ginger ice cube, top with Pellegrino to taste and enjoy!
Garnish with a wedge of lime.
Note: If you prefer a sweeter drink, add more juice or a touch of agave nectar.
For the Ginger Concentrate Ice Cubes
Boil ginger root and water in a medium-sized sauce pan for 1 hour. Cool, strain, and discard ginger.
Pour the remaining liquid into ice cube trays and freeze.
Store ginger ice cubes in a freezer bag and use for teas, smoothies or this kava cocktail!
© 2023 © 2016 Left Brain Wright LLC. All Rights Reserved.