If you've been following my scattered posts this year, you know that I've been dealing with knee problems that have led to pain and imbalance and left me unable to practice yoga as I have in the past. It's been one of the most challenging periods of my life, let alone my yoga practice, but the eight limbs of yoga tell us that asana, or, the physical postures, are only one facet of the yogic path, which includes restraints and observances (yamas and niyamas), the breath (pranayama), withdrawal of the senses (pratyahara), concentration (dharana), and meditation (dhyana)—all ultimately leading to enlightenment (samadhi). But for many of us beginning our yoga journey, the physical practice is a gateway into these other aspects of self-discovery. I've written before about my own transformation through yoga as exercise, which is what inevitably led me to discover the eight limbs and delve into pranayama, meditation, and more. When our bodies are physically compromised, how can we continue to move, stay limber and strong, and maintain a connection to our asana practice so that we continue to grow as yogis and students of the practice? Slowing down, modifying, and embracing the other limbs of yoga has been key to my recovery and well-being.
Here are some suggestions for expanding upon your own practice when traditional classes and physical asana are not accessible:
1. Explore the "gentler" yoga modalities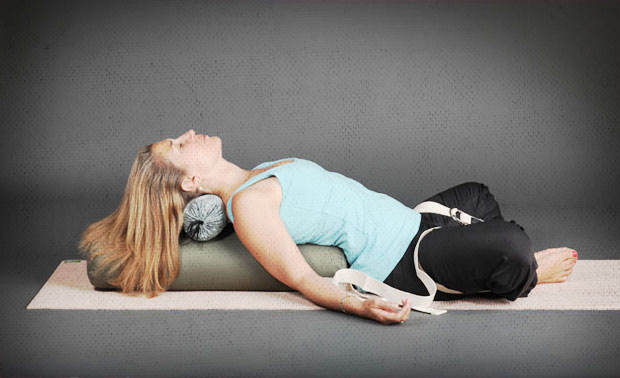 Depending on your level of pain and where you are in your healing journey, you may still be able to partake in some of the more soothing, gentle yoga styles like Yin, Restorative, and Therapeutic yoga.
Yin yoga involves laying passively in deep stretches to allow the fascia, or connective tissue encompassing the muscles of the body, to release. Accessing the fascia is necessary to maintain and deepen your range of motion, so Yin may be helpful in preventing tightness and constriction of muscles neighboring your injury.
Restorative yoga uses props to support the body in supine positions, encouraging the nervous system to slow so that the body can truly relax and open. With proper support (one can never have too many blankets!), Restorative yoga really is for everyone, and finding time to breathe deeply and relax into the shape of your body is essential in combating any stress or worry that may be lingering with you.
Therapeutic yoga typically is a method of modifying traditional yoga poses in a way that supports a particular therapeutic focus. If your "area in question" is commonly injured by yoga practitioners—such as the knees, low back, shoulders and hips—there's a good chance you may be able to find a workshop targeted at your particular condition. Check with your local studio, or try searching for studios or workshops on YogaFinder.com and the YogaJournal Directory.
2. Practice pranayama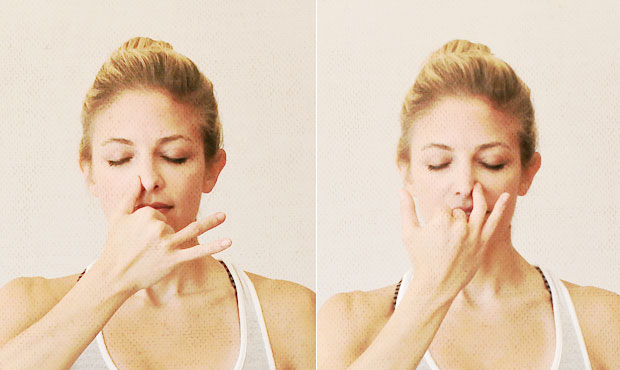 Teachers can never stress enough the importance of the breath, which is why when you're feeling unwell, the breath is what you can rely on for maintaining a connection to your yoga practice. It is the only of the eight limbs that we practice every day, all day long! So access to the breath for healing and clarity is always available—any time, anywhere. There are many techniques available online, including these simple but effective breathing exercises from Yoga Journal.
Personally, I've found tremendous benefit from Kia Miller's "Ego Eradicator" breath, which she often includes in her Kundalini classes on Yogaglo. The 3-4 minutes of intense breathing not only gives you a surge of oxygen and energy, but the arm position is just challenging enough to raise your pulse and light a fire in your core. Check out this free video of Ego Eradicator on YogaVibes.
3. Myofascial release and self-massage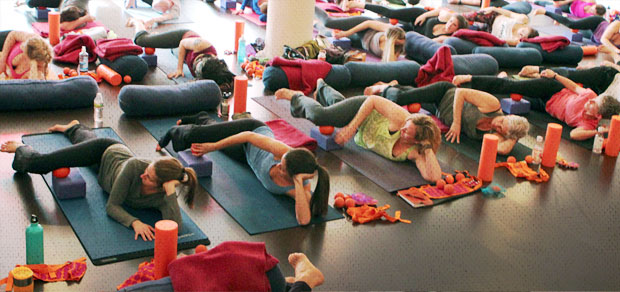 If you're recovering from a physical injury, there's a good chance you've accumulated some muscular imbalances, tightness, and perhaps even scar tissue. Myofascial Release involves applying pressure to knotted muscles and trigger points within and around the muscles to release soft tissue constrictions and tightness. When healthy muscles overcompensate for weak or injured ones, they can become tense, strained, overworked, and painful. While you may want to consider visiting a manual therapist or osteopath that specializes in myofascial release or other forms of muscle-manipulative therapy, you can get started at home with simple self-massage tools like foam rollers, tennis balls, and the abundance of free instructional videos available on YouTube.
If self-massage and foam rolling prove as therapeutic for you as it was for me, you may consider upgrading to a more serious set of tools. This past June at Wanderlust, I took a workshop on Soma System™, a "holistic self-bodywork practice premised on myofascial release, trigger point therapy, and mindfulness meditation." After playing with the basic kit, which includes a set of release balls, a hand massage "roller", spine massager, and foam roller, I was totally hooked. Not only were my tight muscles and knots thoroughly released, I walked away from the session with the all-over-tingle one might expect from a good full-body massage. My Soma System™ kit has become part of my daily routine, helping me map out and understand my tense spots, work through tightness on my own, and ultimately grow a deeper connection with my body and its needs.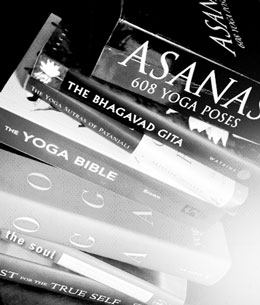 4. Keep up with yoga news and culture
When you're spending less and less time on the mat, you may being to feel a little disconnected from the practice. Know that you are resting and taking care of yourself, but do stay in the loop with what's happening in your local yoga community and in the greater yoga scene. Subscribe to your local studio's email list, get a subscription to your favorite yoga magazine, and browse through the yoga section at your local library. This might be the perfect time to finish studying the sutras, re-read the Bhagavad Gita, or spend an afternoon watching inspirational videos online; I highly recommend Gabrielle Bernstein's fun, uplifting talk about going after your dreams (from this year's Wanderlust) as well as the documentary film Why We Breathe, which features interviews with Kathryn Budig, Dice Iida-Klein, and Tiffany Cruikshank, among others.
5. Attend an event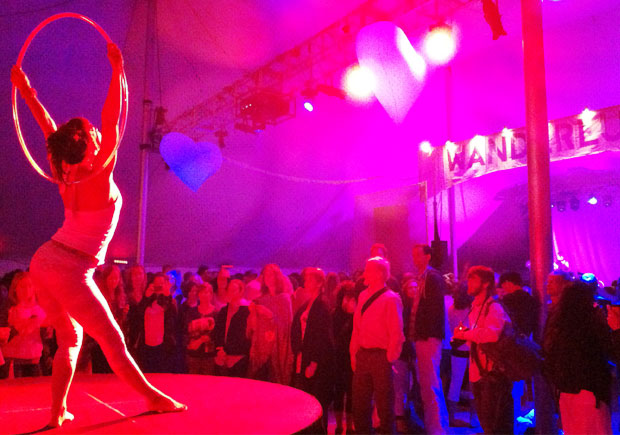 While you may think that sitting home with your bum leg up on pillows is the best way to recover, the truth is you are only partly correct. Sure, you need to nurse yourself back to health… but not at the expense of putting out your inner yoga fire! I spent months away from yoga classes and events, I canceled my Yogaglo subscription, and focused solely on my home practice for healing. But over time, I began to feel more and more isolated from the spirit of the community. I almost sold my Sage ticket to Wanderlust Vermont because of my physical limitations… but my husband talked me into going. "Even if you have to sit in the back of the room drinking tea, you need to go. It'll be good for you!" He was absolutely right (and I'm so lucky to have him!). I went anyway, took mellower classes, learned to slow down and embraced the idea of making the festival what I needed, even if that meant laying on my back for part of a class. It was the best decision I could have made: the healing I received from sitting in meditation with a group of likeminded yogis and swaying to the music in a jam-packed tent under the stars was deeper than any amount of self-care I could have experienced. I went home feeling radiant, happy, and like I had uncovered another layer of myself and what the practice really meant to me.
The festival season may be winding down, but local studios often hold kirtan concerts and specialty workshops. Even if you can't fully participate, let the space, the presence of others, and the challenge of being completely mindful open you up to healing in a new way.
6. Go deeper into meditation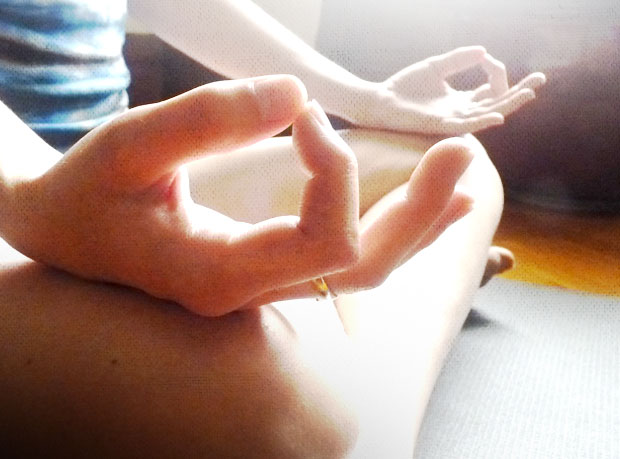 I'm sure you've been reminded more than once that the original purpose of the physical practice was the prepare the body for meditation. Asana was really just a tool to allow yogis to quiet the mind and better access the stillness within. There is no better time than now to dive into meditation and create a daily practice that works for you!
If you're intimidated by the thought of doing nothing for 10, 15, 20 minutes, or, if (like me) you've tried meditation here and there, enjoyed a quiet moment at the end of class, but never really established a consistent practice, taking the time to do so now will help you process and fully experience the emotional aspects of your healing. Sitting with the pain and being vulnerable and open to the changes happening in your body are powerful ways of coping with injury and physical stress.
A great way to get started is to try Yoga Journal's 28-day Meditation Invitation, a free series of meditation videos led by the beautiful and wise Sally Kempton. Sign up for the daily emails and get started here.  *Editor's Note: Unfortunately, this resource has been removed. For another great free meditation program, check out Oprah Winfrey and Deepak Chopra's Meditation Experience.
7. Explore the yoga in every moment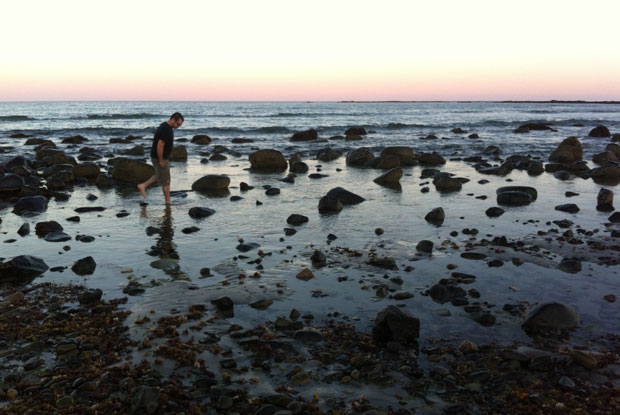 Yogis often talk about taking the practice off the mat, and "living yoga" in their day-to-day lives. It's one thing to find bliss and serenity after 90 minutes of vigorous vinyasa; it's quite another to be calm and mindful in the midst of traffic jam, while waiting in line behind a fussy customer, or when you spill coffee on your blouse while running out the door, late for work! As students of the practice, we can all benefit from pausing to breathe throughout the day, stopping to notice the shadows of light and leaves on the side of a building, and truly tasting and savoring each bite of our meals. But mindfulness is an ongoing effort that requires a genuine recognition that there's no difference between the You that is awake and open as you OM the end of class, and the You that goes to work each day, interacts with your friends and family, and has to deal with the often-not-so-OM-y real world.
Let the challenge of your pain and the frustration of your injury manifest into a softening of the lines, a blurring of the distinction between your inner light and your light that radiates into the world. Then, as this experience inevitably changes you, you just may find that the physical practice is really just a bonus to the ongoing yoga that is within.