Can you believe it's October? The year has been flying by, and somehow this month has escaped from me. Cool, crisp air and the damp smell of autumn has blanketed the northeast, and being a summer baby, I prefer to stay indoors when the temperatures drop.
One of my favorite cold-weather activities is to curl up in front of the TV with a bowl of homemade kettle corn and a great movie! As a film school grad, I love movies… and all kinds. I especially appreciate great documentaries and unordinary films that engage the audience and ponder some of life's deeper questions. The following five films are unique, beautiful, and in some way echo or directly discuss the same philosophies that yoga addresses. If you have other yoga-movie suggestions, please share them in the comments below!
Baraka
(1992) Directed by Ron Fricke
When I first watched Baraka back in film school, it completely changed my perception of cinema and to be appropriately over-dramatic, totally blew my mind. It truly is like no other film and is almost impossible to summarize.
The title comes from an ancient Sufi word translated as "a blessing, or the breath, or the essence of life from which the evolutionary process unfolds." Very much an essence, Baraka takes viewers on a visual journey across 24 countries in six continents. With no dialogue or traditional storyline, this experimental documentary serves as a meditation on the ebb and flow of life around the world, with the juxtaposition of incredible images—some painful, many stunningly beautiful—creating a commentary on what it means to be human.
Enlighten Up!
(2008) Directed by Kate Churchill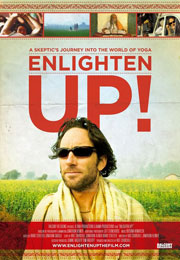 Can yoga transform anyone? Even the most skeptical and rationally-minded? That's the question yogi-documentarian Kate Churchill asks in the inquisitive documentary, Enlighten Up! Nick Rosen, the guinea pig in Churchill's transformational yoga adventure, travels across the globe to study with some of the most respected and influential teachers in the world, including Jivamukti founders Sharon Gannon and David Life, and Ashtanga guru Sri K. Pattabhi Jois, just shortly before his death in 2009. With unexpected twists and a deep examination of what yoga means to each of us individually, this unique film is a must-see as much for its all-star yoga lineup as for its intriguing yoga commentary.
Cloud Atlas
(2012) Directed by Tom Twyker, Andy Wachowski and Lana Wachowski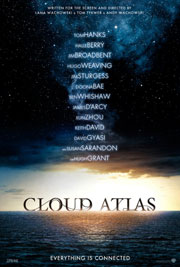 The latest film by the Wachowskis, masterminds behind the Matrix trilogy, and Tom Twyker of Run Lola Run fame, Cloud Atlas, which just opened in theaters less than two weeks ago, is the epic of all epics.
Based on the book of the same name by David Mitchell, Cloud Atlas interweaves six different stories set in vastly different time periods spanning thousands of years, with characters overlapping and interlinking plots. Deep and oftentimes very dark, the underlying message is the persistance of love and the belief that "Everything is Connected." This three-hour journey so intricately paints its alternate worlds and complex characters that there will most certainly be more to discover after every viewing.
Ashtanga NY
(2003) Directed by Caroline Laskow and Mary Wigmore
When I recently watched this documentary for the second time it gave me chills, yet again.
When Sri K. Pattabhi Jois visited New York City in 2001 to teach a group of dedicated Ashtanga yogis, what began as a routine retreat turned into a life-changing event when the September 11th attacks corresponded with his visit. Diving into the beauty and ritual of the Ashtanga yoga practice and allowing a unique glimpse inside the Jois family, this film not only accurately reflects the Ashtanga community but illustrates very poignantly how the practice can unite both in times of joy and times of immense tragedy.
The Tree of Life
(2011) Directed by Terrence Malick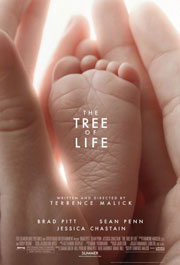 Hauntingly and poetically real, Tree of Life asks all of life's biggest questions through the eyes of Jack, a young boy growing up in 1950s Texas and his adult self, who's lost in a modern world. We witness his innocent childhood fade away as he encounters suffering, death, and a difficult relationship with his father. But throughout it all, the selfless, unwavering love of his mother builds a foundation for forgiveness and transformation.
A unique and beautiful masterpiece of cinema, Tree of Life captures love and humanity honestly, vividly, and with unflinching clarity.