OK, I admit it — I'm a summer baby, born at the crux of the season (July 31st). And I love the heat. But the last few weeks have been brutal with a steady stream of 90-degree temperatures causing even me to crank up the car air conditioning. But like many folks, I don't have A/C at home, and I refuse to let the thick, oven-like heat in my apartment get between me and my mat. So I've been soldiering on, sweating it out, and finding that yet again, my practice soars in the summertime. I feel more light and refreshed than any other time of the year, and I'm sure most Bikram and Hot Yoga devotees would agree: there's nothing quite like savasana after a thorough sweat-fest!
Oddly, I used to despise sweating, but after many years and many puddles on my mat, I've come to actually crave the sweet release and purification that comes with a good drenching. So, if the hot weather has you cowering at the thought of an un-air-conditioned practice, think again! Try these simple techniques to help you tolerate (and possibly even enjoy!) the naturally detoxifying heat nature offers this time of year. I've even provided a cooling dinner recipe for you to savor after your heated effort! Enjoy.
1. Show some skin

Summer is the one time of the year that I'll practice in my tiny pajama shorts and a cami — because the less you have on, the less you'll get weighed down by wet, sweaty clothes. If you can afford to buy moisture-wicking, fancy yoga bra-tops and shorts, go for it. You'll never catch me in a Hot Yoga class in the yogic-equivalent to a bikini, but many top brands sell the goods if you feel so inclined. For my home practice, I keep it light and avoid the frills. Who's gonna see you, anyway? Take it off, baby!
2. Rock your towel mop
If you sweat a lot, or if you just don't like that damp feeling, keep a few towels of varying sizes close by. A full-size bath towel can be placed right on top of your mat to absorb stray drops, and some brands sell especially absorbent towels for just this purpose (check out Manduka's eQua® series). A hand towel or wash cloth is handy to wipe your brow or mop up your face if you get particularly overheated.
3. Drink up! Even more!
Yes, yes, you've heard it before. Drink lots and lots of water! I'll repeat it because it's so important.
For extra icy water, stick your metal reusable water bottle (I dig my Sigg) in the freezer for 5-10 minutes, taking it out just before practice. If you're not a water drinker, try coconut water, which contains natural electrolytes (your body loses them while sweating). VitaCoco is delicious and comes in a variety of tropical flavors. (Note: I'm totally not getting paid for any of these plugs. Shucks! These are my genuine, experience-based recommendations!).
4. Plug in a cool breeze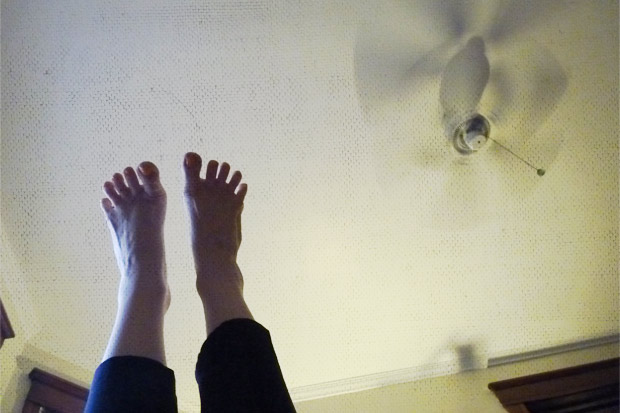 Turn on a ceiling fan, or, better yet, plug in an oscillating or box fan and aim it in your direction. When the drips start coming, the cool air will feel fantastic and keep you from overheating. Tip: this feels especially divine during savasana.
5. Chilled savasana treat
I learned this trick from fellow yoga teacher Zosha Pierse of Primal Power Yoga. Before you begin your practice, fill a small bowl or bucket with ice water and a few ice cubes. Add a drop or two of peppermint oil (eucalyptus is also great) and a clean washcloth. Keep it near your mat, and just before you take rest, wring out the cool cloth and drape it across your forehead… it's the ultimate savasana cool-down, and feels incredible!
Cool/Hot Watermelon, Mint and Feta Salad
After your invigorating practice and a cool shower, try this delicious summer-inspired salad. I created this after my own sweaty flow, and the crisp, cold veggies were a perfectly cooling antidote to the hot, hot heat. Yum!
Inspired by Kripalu's Refreshing Watermelon Salad.
Makes 2 servings.
Ingredients
1½ cups watermelon, cut into large cubes
¼ cup crumbled feta cheese
2 Tbs. chopped fresh mint
¼ cup cucumber, diced
1 Tbs. jalapeño, finely diced – Optional
4 cups chopped greens, lettuce, spinach, or a combo (I used iceberg, green leaf lettuce, and spinach)
½ lemon, juiced (approximately 1 – 1½ tablespoons)
1 Tbs. olive oil
salt and pepper to taste
2-3 Tbs. toasted* pumpkin seeds
Combine watermelon, feta, mint, cucumber and optional jalapeño in a medium bowl.
Dress with lemon juice and olive oil, then season to taste with salt and pepper.
Portion half of the greens on your plate, and top with half of the watermelon mixture. Add an extra drizzle of oil and sprinkle of seasoning, if you like.
Top with toasted pumpkin seeds and enjoy!
* To toast pumpkin seeds, simply heat over medium in a dry skillet for 4-6 minutes, shaking the pan to toast both sides. The seeds are done when fragrant and slightly browned.