Seva Highlight is a monthly column about those in our community who embody seva, or selfless service performed with a loving heart. Want to nominate someone for a Seva Highlight? Email Suzanne and let her know about your favorite yogi do-gooder.
Shambhala Meditation Center is located in downtown Albany near Washington Park. The center offers a number of programs to, as they say, make "enlightened society a possibility." Programs range from full weekend retreats to classes in meditation, philosophy, chanting, and even yoga.
For the past few years, I have been involved with the Shambhala Meditation Center with hopes of finding a sangha (community) to discuss yoga philosophy and spirituality. In my daily life of being a yogi, I have found myself feeling a bit stunted in various yoga classes as the primary and often only practice is yoga asanas (postures). Yoga is so much more than the asanas—it is a philosophy, to some a religion, a way of life. It is something I practice, eat, breathe, and dream of everyday. I have been hungry to share my experiences with others and learn from theirs. This is why I was so happy to meet Chuck George, owner of Davey Jones' Locker at Albany's Shambhala Meditation Center. Chuck teaches yoga on Mondays and Fridays before and after hour-long guided meditation sessions. Chuck's class is his own unique and individual style developed from years of spiritual research. Chuck has most people smiling and laughing within moments of meeting him—his light shines bright and it tickles those around him. When I met him, his aura was infectious—he left me with a grin from ear to ear. While Chuck has been traditionally trained, his style is influenced by many of the spiritual books he reads, such as: books by Osho, Ram Das, and even Nischala Joy Devi's book, A Woman's Guide to the Heart and Spirit of the Yoga Sutras. There are many other books, but as Chuck says, "You don't necessarily have to go to the ancients—the world is screaming wisdom everyday, you just have to turn into it." His unique and beautiful style is charged with wisdom aimed at helping his "students and (him)self come to a better place." Chuck's class is like doing an expressive dance. I found myself moving to the poetry of his words, doing movements I had never done before, all the while feeling confident in the unknown. He coached me to "expand out of a little crunched up ball and let my inner light shine outward."
"You don't necessarily have to go to the ancients—the world is screaming wisdom everyday, you just have to turn into it."Chuck George
"It is a great pleasure to attend yoga led by Chuck twice a week at the center. This is not a strenuous exercise. It is a well-thought-out breathing and stretching session that awakens the body. He intersperses the movements with poetic imagery that inspires a clear mind and spaciousness. His imagery of the vast sky awakens the mind." ~Irene Murray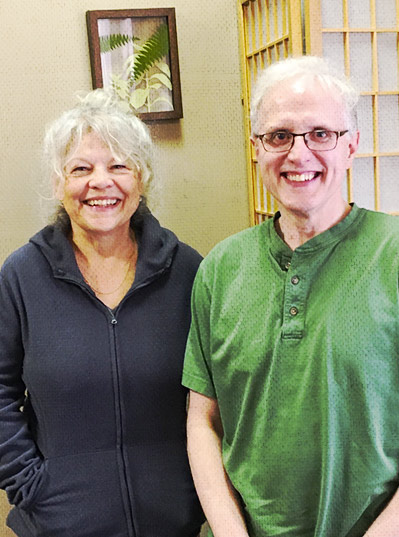 Chuck emphasizes the spiritual aspect of yoga. As he says, "It's all about finding a quiet place and landing there for a little bit. And you don't have to be the stereotypical yoga person that can bend over backwards and touch the floor or tie yourself up in a knot. All you have to do in my class is breathe and you're going to be all right. Wherever you are and whatever you're doing—it's okay."
"I have been doing yoga since I conceived my first child, when I was pregnant and she's now 36…I've been hurt in classes because I have had yoga teachers that are fitness instructors. And that's not what yoga is… there's no way that you can get in touch with the internal (for me) when I'm pushing the external so much that I'm just outside of myself and I find that that's what a lot of yoga classes are. Chuck's classes are not like that. There's a lot of breathing which is the best exercise in the world. The best way to get in touch with my insides and my heart. It's the best yoga class I've ever taken." ~Noreen Galeo
I found that Noreen was right—this was a wonderful class that allowed me to go inward. When I took Chuck's class, I felt myself dance with light and land in one of the most peaceful savasanas (corpse pose) I have ever had. I felt comfortable, safe, and consoled. The best part was, I didn't have to leave. Afterwards I could sit for a one—hour guided meditation and even join a book club to discuss my experience with a community of open-minded individuals.
Shambhala's Friday morning class sequence paves space for one to dive deeper into working with the five koshas (layers): the physical, food-body, or annamaya kosha, the life force, breath-body, or pranamaya kosha, the thought layer, or manomaya kosha, the wisdom layer or vijnanamaya kosha and bliss layer, or anandamaya kosha. The combination of yoga, breathing, sitting, and discussion with community sangha is a well-rounded approach to working through the koshas. It was exactly what I had been searching for and trumped my meager experiences of yoga as pure asana. All too often yogis end a class in a less than a two minute savasana only to have our peace disturbed by the next class rolling in. I urge you to take Chuck George's yoga class and sit in the clarity and space you have created. Enjoy the fruits of your labor.
"The combination of yoga, breathing, sitting, and discussion with community sangha is a well-rounded approach to working through the koshas. It was exactly what I had been searching for…"
"This is my home. This is where my people are, because we share so much. Where else can you go and talk about spiritual things, a quest…most people would just walk away thinking you're nuts, because they're not ready, they're scared. But here, everybody is ready. And community is very important—I don't believe you can do this yourself. You've got to have interaction/friction with other people and that's what the center does for me. The center allows me to say I'm not alone, I'm out here with a lot of good people who are trying to do the same thing, and we all have our faults, our issues, but that's okay, cause we're working through them and we're getting better." ~Chuck George
The Shambhala Meditation Center offers many enlightening programs to help you learn to sit, touch the silence, and let your inner light shine. If you are new to Shambhala, try their Learn to Meditate class to familiarize yourself with sitting. After that, of course, join the Friday morning book club or check out Chuck George's Yoga. Many of the programs are "pay what you can afford" and all will invite you with open arms and ears. Shambhala Meditation Center is located at 747 Madison Ave, Albany, NY 12208. The center hosts the most non-­judgmental and non-materialistic community I have ever been in and I learn something new each time I go.
Visit http://albany.shambhala.org or call (518) 729-­4055 for more details.