"The happiest man is he who learns from nature the lesson of worship."Ralph Waldo Emerson, Nature
The times I have felt closest to the divine are the times I have spent in nature. Though yoga asana (postures) and meditation have helped me disclose my true self revealing much clarity, there is nothing as awe-inspiring and refreshing as being in the throes of this divine and sacred Earth.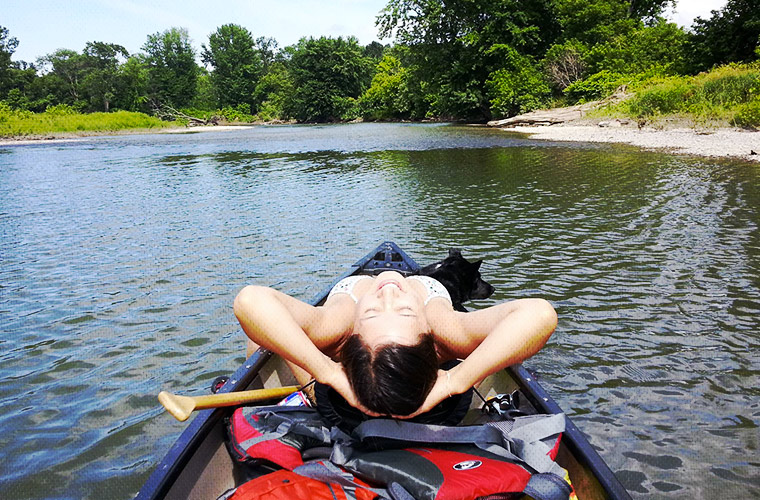 Once I step out the door, it doesn't take long for the sun to light up my world. Its radiance shines warmth upon my cheeks and my heart pumps as the hum of the birds flood my ears and a bumblebee whisks by. My eyes water as I squint into the light and feel the breeze raise goose bumps on my arms while blades of grass floss my toes. All at once, the world becomes illuminated—the leaves of the trees dance with the wind, and I begin to sway to its rhythm.
I am absolutely exhilarated—and then, "Diiiiinnnngggg!"—a Facebook notification diverts my attention and, like Pavlov's Dog, I respond. Within a fraction of a second, a sacred, blissful moment flees, and I have already forgotten how to simply be.
Nature, a place that felt like home, becomes something that is "out there"—a far off place that I saw in a movie or a photo from National Geographic. I am once again out of touch with reality and myself. I ignore what I know about how to live graciously, with humility. I stampede through life searching for shallow things to feed my hedonistic impulses.
The thing is, nature cannot be ignored. A mystic once told me, "Mother Earth is dying." It's something that reverberates in me time and time again. Headlines of catastrophic events in nature such as earthquakes, droughts, tsunamis, and more flood my living room on a daily basis. While I may presume to be living comfortably with my things, a deep-seated disappointment with myself and desire to take on social responsibility often arise. I know that these catastrophes are the Earth crying. Thich Nhat Hanh refers to these cries as, "bells of mindfulness." These bells are ringing more frequently and with more intensity than ever before:
In 1970, the average of natural disasters that were reported was 78; in 2004, this number skyrocketed to 348. According to AccuWeather, since 1990, natural disasters have affected 217 million people every single year. From 1980 to 2009 there was an 80 percent increase in the growth of climate-related disasters. Between 2001 and 2010, more than $1.2 trillion was lost to the increased rates of natural disasters. This was a dramatic rise, which between 1981 and 1990 had been roughly $528 billion. [1][2][3][4]
These natural disasters affect our lives and it is impossible to deny that our actions affect Earth's well-being too. "The New England Journal of Medicine reports that the increase of natural disasters is due to the increased rates of urbanization, deforestation, environmental degradation and to intensifying climate variables such as hotter temperatures, extreme precipitation and more violent wind/water storms. The report goes on to say…natural disasters, particularly floods and storms, will become more frequent and severe because of climate change. Organized deadly onslaughts against civilian populations will continue, fueled by the availability of small arms, persistent social and political inequities, and, increasingly, by a struggle for natural resources. These events affect the mortality, morbidity, and well-being of large populations. Humanitarian relief will always be required, and there is a demonstrable need, as in other areas of global health, to place greater emphasis on prevention and mitigation."[5]
I cannot deny that my actions affect the well-being of the planet and that being balanced with the Earth helps me feel balanced inside. The things I purchase have a detrimental carbon footprint—the food, the perfectly packaged products, the clothes. My lack of gratitude for things as simple as clean water have an effect on this Earth. Simple as it may be to me, a quick look across the world and the devastating contrary confronts me. On a subtler level, I go haywire when there's a full moon and when I eat the food that this Earth gives me, as opposed to the processed junk I ignorantly consume, I feel absolutely alive and well.
The Earth is like a mother to me. I feel joy—a sense of home and nurturing when in her arms. She cares for me with unconditional love. When I step outside and ignore the buzz of media and my daily tasks, when I let the rays of the sun shine down and the vitamin D soak in—I am quickly reminded that this Earth is my home. I see that I am part of the universe and it is a part of me. That the transcendent sound that yogis chant at the end of many yoga classes—ohm (ah-ooh-um) is a reminder of the inextricable and undeniable connection between you, me, and the entire universe. The truth of Ayurveda, that we are a microcosm of the microcosm and, as my teacher, (Lauren Toolin always says) our bodies are made up of the same elements that are found in the stars is crystal clear. With this recognition, any narrow-minded visions of myself start to dissipate and my duty on this earth as described in the ancient Hindu text the Bhagavad Gita is to nurture the soil, the soul, and society[6] reverberates throughout every cell.
"When I step outside and ignore the buzz of media and my daily tasks, when I let the rays of the sun shine down and the vitamin D soak in—I am quickly reminded that this Earth is my home. I see that I am part of the universe and it is a part of me."
"The way of the Gita is the way of a spiritual warrior, a peace warrior and an eco-warrior—what Gita calls a karma—yogi: one who is engaged constantly for the upliftment and well-being of the deprived and dispossessed, but who acts without desiring the fruit of his or her own actions. The Gita says that as the tree does not eat its own fruit and the river does not drink its own water, the karma-yogi should not seek any benefit of his or her own action. Rather, he or she should offer that action for the benefit of others. That is dana. The trinity of the Bhagavad Gita is like the three legs of a stool: through yagna we replenish the soil, through tapas we replenish the soul and through dana we replenish society. But they are not mutually exclusive. All of us need to engage in all three types of action simultaneously. In a nutshell, we need to live a spiritual way of life and engage in the protection of the earth, enlightenment of the self, and restoration of social justice. This ancient trinity of Gita is as relevant today as it ever was." ~Satish Kumar, Spiritual Ecology, 141.
In its very essence, this trinity is love. It is in you, in me, and the Earth. It binds us and is absolutely precious. We are here on this planet to give and receive love. We are here to learn and relearn grace and humility towards ourselves and each other and to remember that the Earth is a precious, unconditionally loving, and absolutely sacred place.
Mama Earth: Earth Day Fundraiser Class
Join me on Earth Day to start your sacred eco-lution. I will be teaching a vinyasa yoga class with Jessica Padula and Kayla Tote to worship Mama Earth on Friday, April 22nd, 2016, at 6:30 p.m.—8:00 p.m. at The Hot Yoga Spot in Albany, New York. This will be a donation-based class. All proceeds will go to the conservation fund, preserving millions of acres of land across the U.S. www.conservationfund.org
More Local Earth Day Events
Here are some other local Earth Day events so you can get down with your tree hugging, beautiful self.
Come Celebrate Earth Day with KTD (Karma Triyana Dharmachakra)!
Free Programs and Film Screenings
Wilton Wildlife Preserve and Park
Earth Day Family Movie Day
Saratoga Springs Public Library, NY
---
Citations
[1] LiveScience
[2] AccuWeather
[3] Washington Post
[4] Borgen Project
[5] AccuWeather
[6] Satish Kumar, spiritual ecology: A collection of essAys edited by llewellyn vAughAn-lee. 2013