If you'd asked me a few years ago what I thought about taking online yoga classes, I would have probably muttered something about a lack of personal attention and human connection — with a What is the world coming to? kind of tone. But last year, when I was thoroughly exhausted from teaching, out of ideas in my home practice, and needed just the right push at just the right time, I found Yogaglo and my practice hasn't been the same since.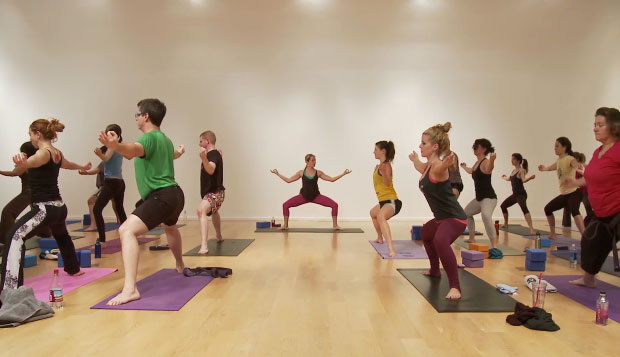 Let me affirm first that this is in no way a sponsored review or promotion of any kind. Ask my friends (and strangers!) — I've been raving about Yogaglo to all of them for some time now. In fact, anyone that's crossed my yogic path in the past year has probably heard me mention it! I love sharing great services just as much as I love sharing my practice, and Yogaglo is definitely worth checking out.
I first heard of the site when listening to Elena Brower's Teaching from the Heart talk with the Yoga Teacher Telesummit. I was tired and home alone on a rare Saturday night, and rather than opening a bottle of wine and watching a movie, I felt a pull to listen to Elena's replay online, instead. Her wisdom, passion, and brutal honesty rocked my world, and thus began my following of this incredible teacher. In the talk she briefly mentioned Yogaglo, where she offered online classes. I Googled it, signed up for the 15-day free trial, and have been a member ever since.
Adjust your dosage
So, imagine this: an incredible team of multi-talented, multi-level, multi-style yoga teachers are hanging out in your living room — just chilling there until you feel like practicing. Just woke up and need to heat up those hamstrings? He's got the perfect class. Exhausted and ready to flop onto your bolster for some restorative work? She knows how to coax those tight shoulders open. Only have 15 minutes? What about an in-depth chaturanga tutorial? Or a full hour-and-a-half long class, complete with chanting and an extended savasana? Yup, they've got that, too.
That's Yogaglo. Can you see why I'm in love?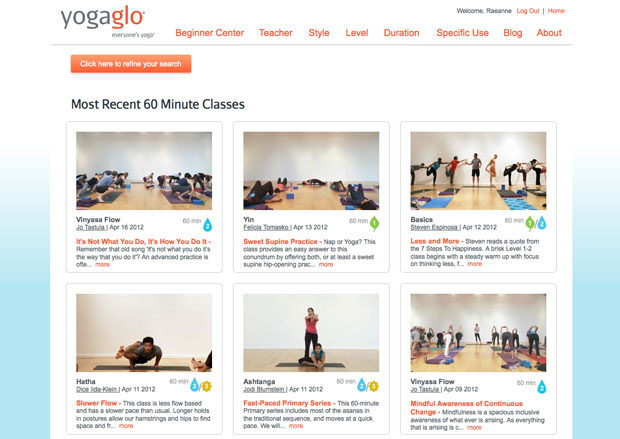 It does help that I'm already a total geek, moving from one computer to device to phone throughout the day. I'm a Web Designer and my hubby has a MiniMac attached to our TV — what can I say? I'm the perfectly wired candidate for Yogaglo. But even if your only streaming-video device is a laptop, don't let that stop you from rolling your mat out in front of that LCD and getting your yoga on.
Let me just geek it out for a moment, if you will.
The feature that brings me the most joy is the sorting capability. You can use the navigation menus and "Click here to refine your search" button to hone in on exactly the class you need in any given situation. The sort feature allows you to narrow down classes by duration (only got 20 mins? No problem!), teacher, style, level, and even specific use (Morning yoga? Stress Reduction? Yes and yes!). The styles are vast — Anusara, Hatha, Vinyasa Flow, Yin and Restorative, to name a few. But what's even better are the teachers! In addition to some stunning guests (Seane Corne, Richard Freeman, among others), the Yogaglo teacher roster is impressive. Thanks to the service, I've become a huge fan of Kathryn Budig, Jo Tastula, and of course, Elena Brower.
To make the most of Yogaglo, you need to commit to a home practice with nearly the same intensity as your favorite studio. Clear time for your classes, turn off your phone, put on your favorite yoga pants, and make the space in your day sacred. Your home practice will grow if you make it a priority, and I treat my time with Yogaglo like studio time, though much more intimate (because you don't worry if anyone behind you can see your black panties through your aqua pants…).
I'm suggesting online yoga as an affordable supplement to your studio classes that will allow you to expand your yogic horizons and deepen the relationship with your best teacher: yourself.
But seriously, I'm not suggesting in any way that you quit going to your favorite classes. On the contrary, I'm suggesting online yoga as an affordable supplement to your studio classes that will allow you to expand your yogic horizons and deepen the relationship with your best teacher: yourself. As a teacher, I can especially vouch for Yogaglo's ability to inspire my practice with interesting sequencing and techniques.
I should note that there are other online yoga services out there — but so far I've only tried Yogaglo. While some yogis like to stay as far removed from technology as possible, I embrace the possibilities. We can learn so much from each other and online yoga is just one way we can open our practice into unseen directions. So, rather than unplug, I say plug-in — and open your home and heart to a whole world of teachers, classes, and experience. What an incredible way to connect, if you ask me!